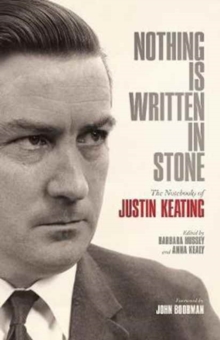 Nothing is Written in Stone : The Notebooks of Justin Keating 1930 - 2009
Paperback
Description
Justin Keating (1930-2009), perhaps best known as a Labour Party politician, was also a senator, mep, scientist, journalist, veterinarian, educator, award-winning television pioneer and broadcaster, a documentary filmmaker and farmer.
A lifelong atheist, he became president of the Humanist Association of Ireland.This absorbing book chronicles Keating's personal and political odyssey, from his earliest memories to the expansive reflections of his later years.
Genial and emphatic in tone, he writes candidly about Noel Browne, Sean MacBride, Garret FitzGerald, Charles Haughey, Conor Cruise O'Brien and their era.
He admits to having 'been in love four and a half times' and maps his journey from the Marxism of his youth towards an ardently felt, Green-leaning social democracy.
His prescience encompassed the perils of nationalism, the future of the Left and of Europe, civil liberties, globalization, religion and sexuality, science, education, women's rights, ecology and respect for the natural world.
Nothing Is Written in Stone forms a brilliant self-portrait of a man whose vision of Ireland and the world is of enduring relevance.Edited posthumously by his widow, Barbara Hussey, Justin Keating's notebooks are an in-depth, impassioned account of the interests and opinions of one of Ireland's most outward-looking intellectuals.
Information
Format: Paperback
Publisher: The Lilliput Press Ltd
Publication Date: 01/03/2017
Category: Diaries, letters & journals
ISBN: 9781843516774
Free Home Delivery
on all orders
Pick up orders
from local bookshops