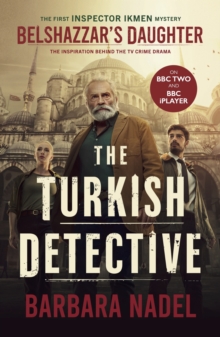 Belshazzar's Daughter
Paperback
Description
Leonid Meyer is found murdered in his flat in Balat, Istanbul's decrepit Jewish quarter, a swastika daubed on the wall in the old man's blood.
But Inspector Cetin Ikmen is quick to eschew the obvious conclusion that this is a racist attack.
The evidence leads Ikmen and his young lieutenant, Suleyman, to two people: Robert Cornelius, a teacher observed outside Meyer's flat shortly after the murder, and a retired businessman, Reinhold Smits, known to have had Nazi sympathies.
But another link connects these two: a ninety-year-old Russian emigre, Maria Gulcu, a widow who thinks she possesses a secret worth killing for...
Information
Format: Paperback
Pages: 448 pages
Publisher: Headline Publishing Group
Publication Date: 03/02/2000
ISBN: 9780747262176
Free Home Delivery
on all orders
Pick up orders
from local bookshops
Reviews
Showing 1 - 4 of 4 reviews.
Review by kylenapoli
16/06/2015
Ikmen is a truly wonderful character but in this book (as in The Ottoman Cage, which I read earlier), you have to have a strong stomach for truly perverse behavior. Everyone's taste is calibrated differently, and I generally love dark fiction, but Nadel keeps pushing too far toward the ick factor on my particular spectrum.
Review by whirligigwitch
16/06/2015
LIked the eccentric and quirky Cetin Ikmen, thought the setting was fascinating and the series has definite promise but this book was just too slow overall. Reasonable plotting, though I guessed some of it quite early on, but let down by some stereotyped characters.
Review by cathyskye
16/06/2015
First Line: A room.Çetin Ikmen. There's not another policeman like him in the world. Traveling from case to police station to home with his endless supply of brandy and cigarettes, he's the father of eight (with the ninth shortly to appear) and the son of a man described as "an atheist, an anarchist, an intellectual snob and a libertine". Since his father also lives with Ikmen and his family, it makes for a very interesting household.Ikmen and his young, handsome sergeant, Mehmet Suleyman, have been put in charge of the particularly gruesome murder of an old man in the ancient Jewish quarter of Istanbul. Since a huge swastika was drawn on the wall above the body in the victim's blood, lots of people show an interest in the case-- including the Israeli embassy. Ikmen is under pressure to solve the case quickly to get everyone off his superior's back, but the wily inspector knows that everyone's favorite suspect, Englishman Robert Cornelius, isn't the right one. The way the man was killed speaks of a very personal motive, and Ikmen won't rest until he puts all the clues and the evidence together.Ikmen is the most amazing policeman I've come across in all the police procedurals I've read. He does his best work loaded to the gills with brandy, nicotine and no sleep. He knows his superior is beneath contempt-- and doesn't hide it. The only thing that keeps him on the job is the fact that he's damned good at what he does.Nadel wove a tale that left me reluctant to come up for air. She may be British, but she's been visiting Turkey for over twenty-five years, and she knows the country. The setting of Belshazzar's Daughter is a richly woven tapestry of history, culture, sights, smells, narrow ancient streets, honking car horns, and the babble of many voices.She can make characters come to life within a single paragraph, and the cast she creates is absolutely wonderful. Ikmen and his family take center stage, but even the single appearance of an elderly rabbi is so well drawn and touching that the old man will live on in my memory.Ikmen calls this the nastiest case he's ever worked on "because there was absolutely nothing to like about any of the people involved in it. For one reason or another they were all absolutely selfish." He's absolutely right. With its overtones of Nazi sympathizers, the purges following the Russian Revolution, and just plain insanity, there's not much to like about all the suspects in Belshazzar's Daughter.That doesn't matter. What matters is that the history, the culture, and the country of Turkey came alive as I read. What matters is that I discovered a fantastic cast of characters to follow in this series of mysteries. And finally... what matters is that Ikmen settled for nothing less than the truth, and justice was served.I can't wait to get back to Turkey.
Review by tompiercy
16/06/2015
Not the most sympathetic bunch of characters I've come across, apart from the Inspector. The rest seemed to be either wimps or villains. Oh, well, perhaps it's me...
Also in the Inspector Ikmen Mystery series | View all