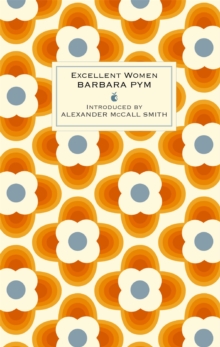 Description
Cover design by Orla KielyMildred Lathbury is one of those 'excellent women' who is often taken for granted.
She is a godsend, 'capable of dealing with most of the stock situations of life - birth, marriage, death, the successful jumble sales, the garden fete spoilt by bad weather'.
As such, though, she often gets herself embroiled in other people's lives - and especially those of her glamorous new neighbours, the Napiers, whose marriage seems to be on the rocks.
One cannot take sides in these matters, though it is tricky, especially when Mildred, teetering on the edge of spinsterhood, has a soft spot for dashing young Rockingham Napier.
This is Barbara Pym's world at its funniest and most touching.
Information
Format: Hardback
Pages: 304 pages
Publisher: Little, Brown Book Group
Publication Date: 01/05/2008
ISBN: 9781844085262
Other Formats
Paperback from £7.05
Miscellaneous print from £10.55
EPUB from £5.99
Free Home Delivery
on all orders
Pick up orders
from local bookshops
Reviews
Showing 1 - 2 of 2 reviews.
Review by overthemoon
16/06/2015
Excellent book! 20th-century Austen, gentility with a bite. I was reminded of all the single ladies who occupied the pews of our chapel when I was a girl. When one of them converted to Catholicism it was mentioned in a hushed voice.I was hankering for some passion to enter Mildred's life. And was a little surprised by the number of sentences (speech) that started with "Oh", which became irritating once I noticed it.
Review by alexdaw
16/06/2015
At long last ! My very first Barbara Pym! I wasn't quite sure to expect but being rather fond of a Pimms at Christmas I thought it couldn't be too bad and probably rather nice. An enthusiastic response from fellow Virago-ites confirmed my supposition and I leapt in with both feet.This particular edition has an introduction by Alexander McCall Smith which is also an excellent sign as I'm very fond of his sense of humour. He sums up the world of the book very cogently by describing it as "a world of shortages and genteel drabness". Excellent Women is in fact the perfect tonic for these austere times. For our book-club this year we have decided to swap books for Christmas as a nod towards belt tightening. Some lucky gal will be snaffling this treasure tomorrow night.So what's it about? Well it's about living in a small community where everyone knows who you are and thinks they know where you will end up - including you - only you sub-consciously wish it might be different. The story is set after the war when, no doubt, a lot of eligible young men were knocked off and there is a surplus of eligible young women - or spinsters as some unkind people used to call them.Mildred is our heroine of sorts. She provides a wry commentary of the goings-on of her new neighbours, the Napiers, and the disturbance they cause to the delicate balance that is ultimately village life, even in the big smoke - London. When you discover that the lead male "interest' Mr Napier's christian name is Rockingham, you know you're in for a treat. Mildred is a clergyman's daughter and spends much of her time with the local vicar and his sister organising the odd bazaar and, before she can object, the rocky domestic life of the Napiers.As McCall-Smith says, much of the joy in this book is to be gained from a reflection of our own human foibles. Chapter Two for example concludes with the following observation..."I hoped the Napiers were not going to keep late hours and have noisy parties. Perhaps I was getting spinsterish and 'set' in my ways, but I was irritated at having been woken. I stretched out my hand towards the little bookshelf where I kept cookery and devotional books, the most comforting bedside reading. My hand might have chosen Religio Medici, but I was rather glad that it had picked out Chinese Cookery and I was soon soothed into drowsiness." Well I may not have Chinese Cookery or Religio Medici for that matter in my collection, but I am guilty of taking a good craft book to bed, secure in the knowledge that I will never complete one tenth of the projects therein but deriving great satisfaction from considering them nonetheless.There are so many wonderful lines in this work. Barbara Pym celebrates the ordinariness of life - the sheer, at times, tedium of existence and how we invent ways to deal with it.....shall I share one more quote? Here Mildred is describing Everard Bone, the object of Mrs Napier's unrequited affection...."He was certainly very clever and handsome, too, in his own way, but there was no warmth or charm about his personality. I began imagining him as a clergyman and decided that he would make a good one. His rather forbidding matter would be useful to him. I realised that one might love him secretly with no hope of encouragement, which can be very enjoyable for the young or inexperienced."Fabulous stuff! Excellent Women - you know from the get-go what kind of book it will be and sometimes that is a very comforting place to be indeed.
Also in the VMC Designer Collection series | View all