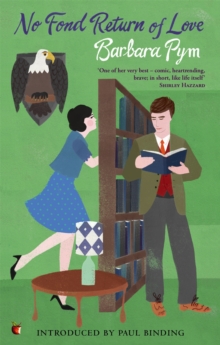 No Fond Return Of Love
Paperback
Description
Dulcie Mainwearing is always helping others, but never looks out for herself - especially in the realm of love.
Her friend Viola is besotted by the alluring Dr Aylwin Forbes, so surely it isn't prying if Dulcie helps things along?
Aylwin, however, is smitten by Dulcie's pretty young niece. And perhaps Dulcie herself, however ridiculous it may be, is falling, just a little, for Aylwin.
Once life's little humiliations are played out, maybe love will be returned, and fondly, after all . . .
Information
Format: Paperback
Pages: 304 pages
Publisher: Little, Brown Book Group
Publication Date: 01/01/2009
Category: Classic fiction (pre c 1945)
ISBN: 9781844084500
Free Home Delivery
on all orders
Pick up orders
from local bookshops
Reviews
Showing 1 - 1 of 1 reviews.
Review by AdonisGuilfoyle
16/06/2015
I started reading Barbara Pym's <i>No Fond Return</i> last week, but put it aside in favour of another book - any book, quite frankly. Jilly Cooper and Philip Larkin can only be flattering a fellow author when they claim that Pym is comparable to, or indeed better than, Jane Austen. That could only be the case for people who prefer reading about middle-aged, middle class spinsters in 1950s England, over the timeless wit and insight of Austen's limited oeuvre. Pym's characters and observations are merely out of date.Dulcie Mainwaring is a bored, lonely, twittery spinster, who meets a similarly desperate old maid called Viola Dace at a conference. Dulcie has recently been 'released' from an engagement to a man called Maurice, and Viola is stalking Aylwin Forbes, an academic writer who once gave her a kiss out of pity. Dulcie and Viola meet Aylwin at the conference and immediately latch onto him. hoping that he will make one of them 'respectable' by bestowing the very great honour of marriage on the nearest available female. Dulcie finds out that Aylwin has a brother who is a vicar, and actually stakes out his church in the hope of acquainting herself with the Forbes family, and then she moves onto his mother's seaside hotel. Dulcie and Viola camp out there, researching his background and hunting around the graveyard for his father's headstone! Of course, Dulcie's determined interest is all for naught, because Aylwin - like most pathetic middle-aged men - has his eye on her nineteen year old niece, Laurel. (*shudder*) And this isn't Regency England, this is the late 1950s - 'in these pushing, jostling days of the so-called equality of the sexes'. Somehow the thought that Dulcie is willing to settle for a man who, like Edmund in <i>Mansfield Park</i>, turns to her on the rebound is a thoroughly depressing ending to a ridiculous story.Am I supposed to care about this sad specimen of womanhood, who stalks men like prey, in the hope that someone - anyone - will marry her? And the abstract philosophising and pretentious dialogue that fills novels like this - saying 'one' in place of 'I' or 'you', and using the word 'rather!' with a straight face. I hope that middle class idiots like Dulcie and Viola are by now confined to early twentieth century fiction by the likes of Christie, Priestley and Pym, because they are too stupid to live. <i>'One feels a sense of one's own inadequacy, somehow, almost unworthiness,' said Dulcie thoughtfully. 'But then life is often cruel in small ways, isn't it. Not exactly nature red in tooth and claw, though one does sometimes feel ... And what will you have for pudding today?'</i> Like fingernails down a blackboard.Dreadfully sorry, Pym fans, but I don't think characters like Dulcie have anything useful to say in this day and age.