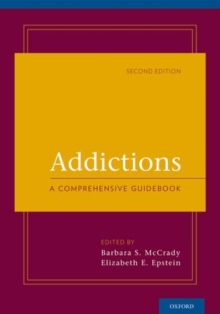 Description
In the 14 years since the first edition of Addictions was published, a wealth of substantive and crucial new findings have been added to our knowledge of alcohol and other substance use disorders.
This primary reference has now been updated and expanded to include 38 chapters, all completely rewritten to reflect new knowledge gained about the science of alcohol and other drugs, as well as new treatment approaches and research trends. Addictions: A Comprehensive Guidebook, Second Edition, features a roster of senior scientists covering the latest findings in the study of alcohol and other drug use, abuse, and dependence.
Skilfully edited by Drs. Barbara S. McCrady and Elizabeth E. Epstein, the chapters primarily review the literature published in the last 14 years since the first edition.
The volume covers seven different content areas: Section I addresses broad conceptual issues as well as information onthe etiology, neuroscience, epidemiology and course of alcohol and other drug use, abuse, and dependence. Section II provides detailed pharmacological and clinical information on the major drugs of abuse, including alcohol. Sections III, IV, and V focus on knowledge of importance to clinical practice,including a section on assessment and treatment planning, information on a range of empirically supported treatments, and issues related to clinical practice. Section VI provides information about specific population groups, and Section VII addresses policy, prevention, and economic issues in the field. The book is appropriate for a wide variety of readers who are either treating, learning to treat, doing research on, or teaching about addictions. Comprehensive and succinct, it is written ina manner that is accessible and useful to practitioners, students, clinician trainees, and researchers. It is also an ideal textbook for graduate courses and training programs in psychology, psychiatry, social work, and addictions certifications, and for advanced undergraduate courses on alcoholand other substance use disorders