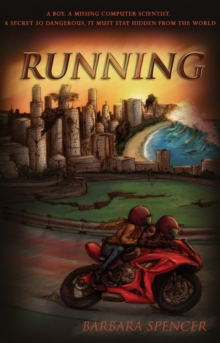 Running : A boy. A missing computer scientist. A secret so dangerous, it must stay hidden from the world.
Paperback / softback
Description
Fifteen year old Scott Anderson has a secret so big he daren't share it even with his best friends.
He and his dad are American. If you're American, you don't talk about it. If you don't talk about that, you don't talk about any of the other secrets that haunt your life - that your dad's really a computer scientist and people are searching for him. When Bill Anderson disappears, Scott is determined to find him.
He has already lost his mother. She disappeared in the California earthquake, which killed ninety percent of the world's computer scientists; a tragedy for which America is held responsible.
But there's little for Scott to go on; a scrap of paper left in a printer and a poster pinned to the wall. Now someone's looking for Scott, too. Is it the mysterious Frenchman, who pretends to be a radiation expert, or Sean Terry of the American Secret Service, who believes the United States innocent of the crimes levelled against it?
Could it be Hilary Stone, the prettiest girl in class, who also claims to work for the American Secret Service? Or is it someone else entirely?Following the clues, Scott heads north on his dad's bike.
As his pursuers catch up with him, it is Hilary Stone who saves him.
Despite not trusting her, he grudgingly allows her to go with him to Scotland, where he believes the answer lies.
After all, as Hilary points out; she has the gun. The annual flower festival at the Keukenhof in Holland plays host to the final scene where, at last, Scott comes face to face with his pursuers, and learns the secret his father has always kept hidden from him.
Information
Format: Paperback / softback
Pages: 288 pages
Publisher: Troubador Publishing
Publication Date: 17/05/2010
Category: Adventure
ISBN: 9781848763241
Free Home Delivery
on all orders
Pick up orders
from local bookshops