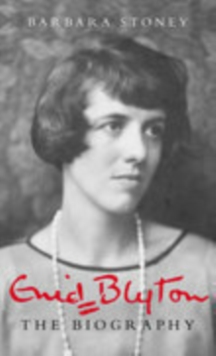 Enid Blyton : The Biography
Paperback
Description
Enid Blyton is known throughout the world for her imaginative childrens books and her enduring characters such as Noddy and the Famous Five.
She is one of the most borrowed authors from British libraries and she holds a fascination for readers old and young alike.
Yet until 1974, when Barbara Stoney first published her official biography, little was known about this most private author, even members of her own family.
The woman who emerged from Barbara Stoney's remarkable research was hardworking, complex, often difficult and, in many ways. childlike. Now this widely praised classic biography has been fully updated for the twenty-first century and, with the addition of new colour illustration and an extended bibliography of Enid Blyton's books, it documents the growing appeal of this extraordinary woman and her writing.
The fascinating story of one of the world's most famous authors will once again intrigue and delight all those with an interest in her timeless books.
Information
Format: Paperback
Pages: 240 pages
Publisher: The History Press Ltd
Publication Date: 15/11/2006
Category: Biography: literary
ISBN: 9780752440309
Free Home Delivery
on all orders
Pick up orders
from local bookshops
Reviews
Showing 1 - 2 of 2 reviews.
Review by cameling
16/06/2015
While I remember the 'Read with Dick and Jane' series of books as the first books I read, I credit Enid Blyton and her many series with developing my love of reading as a child. Her poetry and her stories drew me as no other author had, and I could not get enough of her books. Thankfully, she wrote voraciously and the multiple series helped me develop an appreciation for different types of stories and poems. I still have some of my old Enid Blyton books and will occasionally still lift one from the shelves to indulge in a favorite childhood escape. The delight I find in her stories have not dimmed even as I have aged and moved on to more 'adult' books.This biography, based on research through interviews with members of her family, friends and employees in addition to extracts from surviving documents and diaries, have given me a glimpse into the woman behind the author. Her life was very different from what I had imagined for her. I had not known how much of a philanthropist she was, and how her efforts to aid various charities through her army of fans around the world resulted in some amazing donations and assistance. That she took the time to answer letters written to her by children even as she became more and more busy with her professional writing touched a chord in me. What a thrill it must have been for a child to receive a handwritten note from her answering their questions or thanking them for the dead bird they sent. I find it interesting that the critics of her works were from, and continue to come from adults, not the children who to this day, consume them by the millions. Perhaps these nosy and noisy adults should focus on the most important thing about Enid Blyton's books .... and that is, she's still, even now, getting children to read. And here's another thought, J.K Rowling has said in interviews that she grew up reading Enid Blyton books...and look how she's managed to entice children to read today. In reading this biography, I've come to love Enid Blyton for the woman she was, I thank her for giving me an outlet for my imagination to flourish and for building fantastical worlds filled with wizards, fairies, pixies, adventure, fun while imparting moral lessons to strengthen what my parents taught me.
Review by aine.fin
27/08/2015
A very enjoyable story in its own right, didn't drag at all. Scholarly and fairly thorough overview of Blyton's life without sacrificing a good narrative. Would have liked a bit more detail on the writing of my favourites but understand that this wasn't possible with the volume of work written by Blyton.