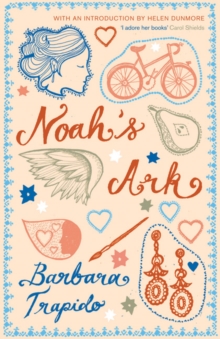 Description
Ali Bobrow is an other-worldly single parent with a fraught nine-year-old daughter, a malevolent 'ex' with a grabby new wife, and an underused artistic talent.
A pushover when it comes to needy neighbours and uninvited children, she allows her house to be the local drop-in centre, until she collides with Noah Glazer, who falls for her pale red hair.
A solid man of science, Noah walks into her over-populated life bringing good sense, order and security.
But ten years on, Ali is drawn back into the complexities of her past: an old lover, two ex-spouses, a colleague from clown school and a small smuggled cat all help to rock the boat.
Information
Format: Paperback
Pages: 304 pages
Publisher: Bloomsbury Publishing PLC
Publication Date: 18/05/2009
ISBN: 9780747599616
Free Home Delivery
on all orders
Pick up orders
from local bookshops
Reviews
Showing 1 - 2 of 2 reviews.
Review by relah
16/06/2015
The biggest issue I have with Barbara Trapido's novels is that they always finish long before I'm ready to stop reading them. I would happily live forever in her fictional world and Noah's Ark in particular - a 'Misery' scenario would be very tempting should should I ever meet her.
Review by KateVane
27/08/2015
This is the story of a marriage but it is also a clever study of power.Ali Bobrow, artistic, beautiful and unworldly, is easy prey to controlling men. Her third husband, Noah, is at least a benign dictator. Before him she was mistreated, her daughter was unhappy and she was unable to resist the demands of any manipulative neighbour or acquaintance. Noah, a doctor, the ultimate protector, replaces the chaos with love, calm and security – so long as she follows his rules.Then one day Ali decides to rebel – and this disrupts the delicate balance of her life with Noah, and leads her to look back at her past in South Africa. Trapido's characters are funny and vivid and clever. You feel like you want to climb into her world (though probably not for too long – who could keep up?). She creates atmosphere with economy and style. The opening scene shows Ali sewing in her kitchen, an icon of domesticity. The apparently ordinary items – the fruit bowl, the pinboard – and her thoughts about them immediately evoke the family and her place within it. There are other types of power here. Ali grew up under apartheid, the descendant of German refugees from World War Two. Her best friend at school was Jewish, and she is attracted to Jewish men. Her unconsummated first love was dark-skinned and was rumoured to have lied about his background to attend the all-white university. There are also the dynamics between parents and children. Noah's step-daughter, once so timid, is able to be rebellious and demanding precisely because he has made her feel safe – for now. He is also confronted by the stubbornness of his own daughter.How do we respond to a world where every day people are harming others? Trapido asks subtle questions about the limits of power, resistance and compassion.