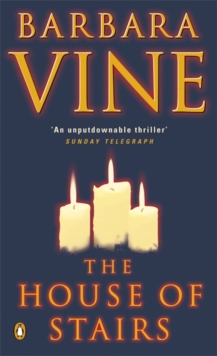 The House of Stairs
Paperback
Description
The House of Stairs - an unputdownable crime classic from bestselling author Barbara VineLizzie hasn't seen her old friend, Bell, for some fourteen years, but when she spots her from a taxi in a London street she jumps out and pursues her despite 'all the terrible things' that passed between them.
As Lizzie reveals those events, little by little, the women rekindle their friendship, with terrifying results ...'This is the third psychological thriller by Ruth Rendell writing as Barbara Vine and when I say it surpasses the first two that's really saying something ...
Vine has not only produced a quietly smouldering suspense novel but also presents an accurately atmospheric portrayal of London in the heady 60's.
Literally unputdownable' Time OutThe House of Stairs is a modern masterpiece of the crime genre and will leave you gripped from the first page to the last.
If you enjoy the novels of P.D. James, Ian Rankin and Scott Turow, you will love this book.'The Rendell/ Vine partnership has for years been producing consistently better work than most Booker winners put together' Ian Rankin'A superb and original writer' Amanda Craig, ExpressBarbara Vine is the pen-name of Ruth Rendell.
She has written fifteen novels using this pseudonym, including A Fatal Inversion and King Solomon's Carpet which both won the Crime Writers' Association Gold Dagger Award.
Her other books include: A Dark Adapted Eye; The House of Stairs; Gallowglass; Asta's Book; No Night Is Too Long; In the Time of His Prosperity; The Brimstone Wedding; The Chimney Sweeper's Boy; Grasshopper; The Blood Doctor; The Minotaur; The Birthday Present and The Child's Child.
Information
Format: Paperback
Pages: 288 pages
Publisher: Penguin Books Ltd
Publication Date: 11/05/1989
Category: Crime & mystery
ISBN: 9780140114461
Other Formats
Paperback from £9.15
EPUB from £7.99
Free Home Delivery
on all orders
Pick up orders
from local bookshops
Reviews
Showing 1 - 3 of 3 reviews.
Review by MicheleBW
16/06/2015
I adore Ruth Rendell. I really do. But...This book took me forever to read. In this first person narrative, the main character recalls some years of her tragic life. The reader is told very early on that there is a murder and who the murderer is and strongly hints that it involves an open window at great height but leaves unanswered until the end just who and how.And yet the tragedy is something quite other. The tragedy is the threat of Huntington's chorea.This would have been a more compelling story if I could understand the motivation of the main character. Her actions, her continued support for another so clearly (even to her) unworthy, just seems so alien to me. Are there really people in the world like that?And while I've given the story just three stars, I find myself still thinking about it. Still wondering.
Review by moonshineandrosefire
16/06/2015
Who is the sad, reflective narrator and what mysterious illness does she suffer from? What is the strange hold that the tall, dark woman named Bell has over her, and whatever happened at the carefully described House of Stairs in London that sent Bell to prison? The answers are gradually revealed as the intricate knots of this mystery are untied. The narrator of the story is a middle-aged novelist named Elizabeth Vetch who, ever since she learned of her grim heritage at age fourteen, has lived under the threat of inheriting the fatal disease known as Huntington's chorea, which she refers to as "the terror and the bore." Years before, during the late '60s and early '70s, she and Bell and several other vibrant people lived in the House of Stairs, owned by Elizabeth's recently widowed, newly Bohemian aunt Cosette. The story begins with Elizabeth's chance sighting of Bell; someone whom Elizabeth hasn't seen in fourteen years. Remembering their past friendship, Elizabeth feels compelled to understand her own reawakened emotions, as well as the events that initiated her and Bell's parting and caused both Cosette and Elizabeth untold pain. Despite "all the terrible things" that passed between them, Elizabeth makes overtures to rekindle their friendship, with terrifying results...I thoroughly enjoyed this book; although, the story being told entirely in flashbacks was slightly confusing to me. I was so eager to know what happened, that being pulled into a flashback scene was at times a little annoying. I still would give The House of Stairs by Barbara Vine - who is actually Ruth Rendell - an A+!
Review by niquetteb
27/08/2015
Lizzie is the main character. The book is written through her perspective and flashes back throughout the novel. I had a hard time putting this book down, but I won't describe, so I don't ruin it.