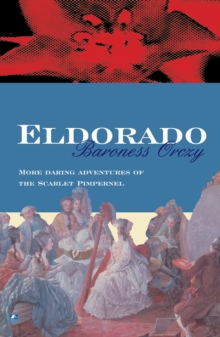 Information
Format: Paperback
Pages: 422 pages
Publisher: House of Stratus
Publication Date: 30/07/2001
ISBN: 9780755111121
Other Formats
Paperback / softback from £22.99
Free Home Delivery
on all orders
Pick up orders
from local bookshops
Reviews
Showing 1 - 2 of 2 reviews.
Review by AdonisGuilfoyle
16/06/2015
The best Pimpernel story by far. Darker in tone than the rest of the adventures, Eldorado has romance, anguish, tension, a sharp blend of historical fact and fiction, and includes all of Orczy's best characters. For me, the incredible test of Percy and Marguerite's powerful bond is somewhat diminished by the 'subplot' of Armand and actress Jeanne Lange - the suspicion that Orczy was replicating her successful feminine formula of vulnerability and allure, which works so well with Marguerite, rather challenges her supposed appeal - but bar a nauseating chapter in which lovestruck Armand and self-serving Jeanne declare their feelings for each other, the interest stays most firmly rooted in the Blakeneys. The 'Richmond' chapter in The Scarlet Pimpernel is echoed here when Marguerite must visit her beaten but unbowed husband in a fetid cell in the Conciergerie. And although Percy and Armand decide never to tell Marguerite of all that has happened, the reader is left with the feeling that she already knows - and that her relationship with her beloved brother must suffer ever after.Absolutely amazing writing, far surpassing even the main novel.
Review by AdonisGuilfoyle
16/06/2015
Hurrah for House of Stratus - now the Scarlet Pimpernel series is available on Kindle, so I can download novels I already own to read again in digital form! Well, I was impressed, anyway.Of all the Scarlet Pimpernel sequels by Baroness Orczy, <i>Eldorado</i> is my favourite. The intrigue, tension and historical detail found in the original novel is multiplied tenfold, and the powerful romance between Blakeney and Marguerite far surpasses the sex scenes of any modern day 'bodice ripper' (although I love how the very Victorian Baroness hints that Percy 'does know how to love' Marguerite!) Armand is still an egotistical idiot who falls in love with a carbon copy of his sister, and the Baroness' pet phrases and childish metaphors do not improve with age, but overall, I still love these books and can't wait to re-read the lot on Kindle!(And on a side note, Armand is right - Foucquier-Tinville, the revolutionary public prosecutor, <i>does</i> look an awful lot like a marmoset!)
Also in the Scarlet Pimpernel series | View all