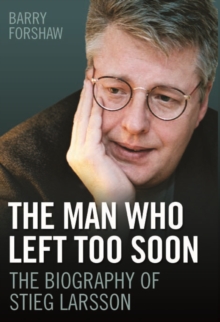 Stieg Larsson - the Man Who Left Too Soon : The Biography
Hardback
Description
His best-selling books are violent, terrifying, brilliantly written and have sold millions of copies around the world, but Stieg Larsson was not there to witness any of their international success. That he died in 2004 and his fame as an author is entirely posthumous demonstrates the dizzying speed with which his star has risen.
But when one looks a little deeper at the man behind these phenomenal novels, it is clear that his life would be remembered as truly extraordinary, even if his Millennium trilogy had never been published. Larsson was a workaholic: a keen political activist, photographer, graphic designer, a respected journalist and editor of numerous science fiction magazines...and at night, to relax after work, he wrote crime novels.
As the world now knows, by the time of his death at just 50 years of age he had completed The Girl Who Kicked the Hornet's Nest, the third book featuring his hypnotic character, Lisbeth Salander. But his relentless personality and political convictions did not make his life easy.
He famously reported about some dangerous neo-Nazi organisations in Sweden, which led to numerous death threats. In fact, since his death, officially caused by a massive heart attack, there had been much speculation that his enemies had a hand in his premature demise. This difficult man, brilliant and multifaceted, here receives a penetrating biography - and celebration of his remarkable life and books - from top crime fiction journalist Barry Forshaw.
Information
Format: Hardback
Pages: 303 pages, Illustrations
Publisher: John Blake Publishing Ltd
Publication Date: 19/04/2010
Category: Biography: literary
ISBN: 9781844549405
Free Home Delivery
on all orders
Pick up orders
from local bookshops
Reviews
Showing 1 - 2 of 2 reviews.
Review by PKXFXNINJA
16/06/2015
This book will probably seel moderately well, as its subject is hot propoerty; however it is a big disappointment and cannot be called a biography. Its opens with the briefest overview of Larsson's life and work, mostly lifted from other publications. Then the bulk of the volume is spent going over the plots of Larsson's three published volumes, interspersed with the briefest of comments. Then follows a lengthy chapter telling you what numerous other crime writers think about the work of Larsson, at this point I pulled out what remaining hair I have! It is stiffly written in style and offers nothing really new. I enjoy a good biography and recived this one as a gift; it is probably amongst the worst biographies I have ever read. do I tel the person who gave it to me? That, is the mystery....
Review by devenish
16/06/2015
This was obviously produced at the gallop shortly after Stieg Larsson's early and unexpected death. It has all the hallmarks of a scissors and paste job. Pages 1 to 62 cover the life of this troubled man and is the most interesting part of the book by far. As for the rest,the longest section (pages 63 to 214) which is headlined 'The Books',takes us through the three volumes in abridged form. Now if you have read the books already (and I presume you have) this is of little or no use to you as it is quite simply a rehash. Next we have a chapter on other Scandinavian writers deemed rivals of Larsson which is of reasonable interest. The section about tours following the three book's footsteps as it were is of little use to anyone apart from the most ardent fan.'Writers on Larsson' brings together other well-known crime writers who give their opinions of the man and his work. We end with a short piece about the film versions of Larsson's work.Despite my reservations regarding this book,I must say that anything that is published which helps us to understand this incredible and troubled man is well worth reading. I do however hope that a more worthy attempt will soon be written.