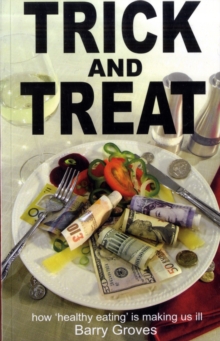 Trick and Treat : How Healthy Eating is Making Us Ill
Paperback
Information
Format: Paperback
Pages: 502 pages, 5 b&w line drawings
Publisher: Hammersmith Press Limited
Publication Date: 01/10/2008
Category: Diets & dieting
ISBN: 9781905140220
Free Home Delivery
on all orders
Pick up orders
from local bookshops
Reviews
Showing 1 - 1 of 1 reviews.
Review by mitchellray
16/06/2015
Forget what you know about living a healthy lifestyle. It's likely wrong—and killing you. That is the clear message in the book "Trick and Treat" by Barry Groves. A quick perusal of the abstracts at the start of each chapter makes it easy to dismiss Groves as some contrarious crank. But read on. This guy has done his homework (there are 53 pages of citations). In a clear, methodical, detailed style, Groves compiles the evidence against today's multi-billion dollar health industry.I didn't have to read much of the book before I became angry. At first I was angry at Groves for calling into question everything I have come to believe about living a healthy lifestyle. He advocates eating meat not vegetables. Replace your bran breakfast with eggs and bacon. Scrap the margarine and vegetable oils and use butter. Sunbathe without the sunscreen. This guy must be crazy. But as I continued to read, his arguments continued to make more sense. After all, why should we humans suddenly change a diet that has carried us through our evolutionary development? And is it a coincidence that the rise of obesity, diabetes, cancer, heart disease, and a host of other ailments coincide with our obsession with "healthy" eating? Not according to the extensive evidence compiled by Groves. My anger eventually became aimed at the professionals and government that persuaded me to believe in an unnatural "healthy" lifestyle. I ended my reading of this book curious to know more about Groves's recommendations.I found "Trick and Treat" exhausting to read. It seems Groves has found every possible study that supports his premise from the past two centuries and includes all of them in his book. But he has a way of explaining the complexities of human physiology and biochemistry that make these subjects understandable to the layperson. I was frustrated, though, that there were not more details included in the book about how to return to a more human-friendly diet. I suppose I will need to read one of his other books for that information. After reading "Trick and Treat," I am eager to do so.