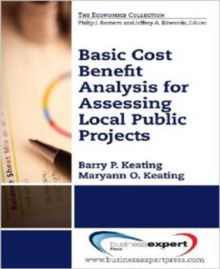 Basic Cost Benefit Analysis for Assessing Local Public Projects
Paperback / softback
Description
CBA is an attempt to fully account for all costs associated with a new proposal along with a detailed calculation of specific private and public benefits.
Properly employed, CBA is simply a method for assessing a proposal prior to a collective decision by calculating net benefits relative to an alternative project or the default option of doing nothing.
Cost benefit analysis (CBA) guidelines exist in the form of highly theoretical, mathematically complex handbooks published by international and national organizations.
These reports are generally beyond the scope of local decision makers entrusted with evaluation of small municipal projects. This work is an attempt to fill the gap between national and international manuals, on the one hand, and the need of local officials to perform or interpret CBA studies out-sourced to consultants, on the other. Because standard statistical packages, spreadsheets, and graphical analyses are more accessible than at any previous time, CBA, as a tool, is more accessible for informing decisions made in the public interest. We assume that there is some optimal amount for public good provision that reflects, to the degree possible, resident taxpayers' willingness to pay.
Our goal is four-fold: to discuss the economic underpinnings of cost benefit analysis, to address measurement problems associated with shadow pricing of public goods, to outline potential pitfalls for the non-specialist, and, finally, to present and explain a CBA template in reference to three cases relevant to local government decision making.
Information
Format: Paperback / softback
Pages: 200 pages
Publisher: Business Expert Press
Publication Date: 16/12/2013
Category: Public finance
ISBN: 9781606496367
Free Home Delivery
on all orders
Pick up orders
from local bookshops