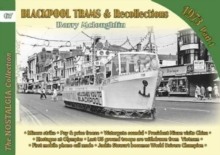 Blackpool Trams & Recollections 1972 : Part 1
Paperback
Description
The Recollections seriesThe 67th volume in this growing series taking a nostalgic look at Britain's transport heritage...The aim of this series is to appeal to readers of all ages, perhaps for different reasons...In this volume: We travel back to the year 1973 for the first of a two part nostalgic look at the street scenes of Blackpool, Bispham and Fleetwood, the places in between and in particular the tramway system as it was at the time. (Part 2 is No 68 in the series)For the younger reader there are wonderful pictures of trams, cars and other forms of road transport that they will never have seen.
For the older reader the books in the Recollections series are designed to build into a collection placing road transport and other subjects in the context of key events, thus providing an historical perspective of Britain in times past.
For those old enough to remember 1973, this book will, we hope, provide reminders for many of school days, time spent in Blackpool on holiday or on a day trip, perhaps even time spent tram spotting!Of course not everyone has been to Blackpool and for them we hope the images within will still resonate through the fashions, the adverts, the vehicles and so much more of a time now over 40 years ago when daily life was so very different.The books in the series also make ideal theme gifts for the year of birth, marriage, retirement, starting work and other such events in life.
Free Home Delivery
on all orders
Pick up orders
from local bookshops