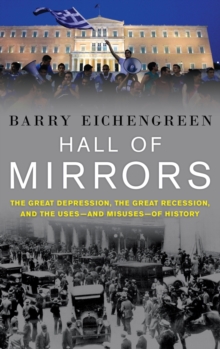 Hall of Mirrors : The Great Depression, The Great Recession, and the Uses-and Misuses-of History
Hardback
Description
The Great Depression and the Great Recession are the two great economic crises of the past hundred years.
While there are accounts of both episodes, no one has yet attempted a sustained comparative analysis.
In Hall of Mirrors, Barry Eichengreen draws on his unparalleled expertise for a brilliantly conceived dual-track account of the two crises and their consequences.
Rather than telling the stories of the two crises in sequence, instead he weaves them together.
He describes the two bubble-fuelled build-ups, then the onset of crisis, the subsequent financial and economic and collapse, the policy response, and finally the recovery.
A theme of Eichengreen's narrative is that while the policy response to the Great Recession was importantly shaped by perceptions of the Great Depression - contemporary policymakers did in fact learn lessons from the Depression that enabled them, this time, to prevent the worst - they could have done better. Their failure to do so reflected a tendency to take the lessons of the Depression too literally, leading to an inability to recognize important respects in which circumstances, and specifically the structure of financial markets, had changed - precisely in response to the policies put in place due to the Depression.
In addition, success was the mother of failure: the success of the policy response took the wind out of reformers' sails.
It diminished support for the kind of far-reaching social and financial reforms adopted in the 1930s.
It allowed policy makers and society to prematurely indulge their desire for a return to normal policies before a normal economy had been restored.
To be sure, this more recent crisis was better managed than the earlier one, which resulted in widespread social distress and, in the worst case, the rise of fascism.
But a wiser collective response after 2008 would have staved off the painfully slow growth that subsequently plagued the United States and Europe.
Information
Format: Hardback
Pages: 520 pages
Publisher: Oxford University Press Inc
Publication Date: 02/01/2015
Category: Macroeconomics
ISBN: 9780199392001
Free Home Delivery
on all orders
Pick up orders
from local bookshops
Reviews
Showing 1 - 1 of 1 reviews.
Review by Miro
27/08/2015
In this useful book, Barry Eichengreen compares the "Great Depression" which started in 1929 with the "Great Recession" Sub-Prime Crisis which started in 2008.He shows that the run up to the two had obvious similarities, with property speculation, easy credit and new technology, generating the same "This time is different" idea as in a "Permanently High Plateau", or the "Great Moderation" with its supposedly greater understanding and discounting of risk.However, the core of the book is an evaluation of the big differences in government reactions to the two crises.Each crisis had its own context. In 1929 there was an awareness of the hyperinflation that had hit Central Europe in the early 1920's leading to a hesitancy in providing liquidity, whereas in 2008 there was the example of 1929 itself (closely studied by Bernanke) perhaps leading to the FED going too much the other way and providing excessive liquidity.In any event, the post 2008 flood of liquidity did protect the banks and helped the economy by turning a potential Depression into a longish Recession.He sees this as good news and bad news.The good news is that there wasn't an economic collapse. The bad news is that the government never faced the kind of true crisis that would have generated the political will for fundamental reform (of the type seen after 1929). Post 2008 America never saw a stimulative New Deal, or a Glass-Steagall Act separating commercial and investment banking and it retained banks that are still "too big to fail", excess leverage, vast quantities of opaque derivatives and minimal reserves (i.e.still an accident waiting to happen).Basically Eichengreen is saying that everything would have been OK if the government had broken up the banks in 2008, separated commercial banking from investment banking, introduced transparency in derivative markets and reduced leverage, but above all, if they had instituted large scale Keynesian deficit spending (New Deal) type policies, and this seems to be his main proposal.However, (in the opinion of this reviewer) there may be some problems with the idea.He rejects Andrew Mellon type "liquidationist" arguments (with regard to the Great Crash), Mellon said, "..... It will purge the rottenness out of the system.... People will work harder, live a more moral life. Values will be adjusted, and enterprising people will pick up the wrecks from less competent people." Eichengreen seems to propose more Keynesian spending, even while the rottenness stays in place. with his definition of "rottenness" restricted to banking and finance, when in reality it probably extends throughout U.S. society (e.g. the special interest capture of healthcare and military spending among much else).More fundamentally, the author doesn't really differentiate between good investment and bad investment. For example, Michael Pettis in his worthwhile book, "The Great Rebalancing: Trade, Conflict, and the Perilous Road Ahead for the World Economy" defines good investment as spending that can generate enough wealth to repay capital with interest and he goes on to suggest that these situations are rather special and rare (e.g. European reconstruction after WW2, America opening up the West, or the first phases of development of new technologies).Pettis sees Keynesianism taking credit for a post Great Depression recovery that really occurred due to plentiful good investment opportunities rather than any Special Theory, and he gives a whole list of bad (capital destroying) dead end investments such as new factories, real estate and inventories without demand, credit financed consumption or QE used to fuel speculative bubbles. On this reading, Keynesianism looks more like a leftist propaganda tool used to justify increased government spending rather than a genuine description of economic reality.The author also approves of Japanese "Keynesian" government spending in the early 1930's. As he sayson P257, "Takahashi then submitted a supplementary budget providing for new spending on rural relief and on the army's military operations in Manchuria, where renegade officers, protecting Japan's colonial holdings there, had staged a terrorist incident they blamed on Chinese bandits, allowing them to launch a police action (actually the invasion of NE China). Takahashi himself was opposed to Japanese military intervention in Manchuria, but he could still use it to advance his economic strategy." - "Japan's experience thus illustrates what concerted monetary expansion, backed by fiscal stimulus could do."(i.e.good economic policy from the author's viewpoint).This may be so, but a more traditional interpretation of the Mukden Incident would be that it marked the supremacy of militant Japanese imperialism and was thus the first step in the eventual complete destruction and nuclear bombing of Japan.So, revisiting the Hall of Mirrors, one would assume that the author approves of the Keynesian stimulative effect of the large scale military spending resulting from the 9-11 attack on the U.S. (currently in the region of $ 3.8 trillion including Iraq, Afghanistan and Homeland Security and more counting future medical and disability claims) taking place against a background of strong monetary expansion. The author curiously doesn't even touch on the subject, but it would surely come under Pettis' heading of Bad Investment.As with Japan, Eichengreen doesn't consider any political fallout from events and the economic consequences.It's becoming increasingly clear for example, that the complex 9-11 "Operation" was a terrorist incident staged by militant Israeli and U.S. Zionists and blamed on Arabs, allowing them to launch the "War on Terror" in the Middle East and the Patriot Act and "Homeland Security" in the United States, and marking the supremacy of militant Zionism in both Israel and the U.S. (Google "World Trade Centre building 7" and keep reading).How a rising awareness of this reality plays out economically is anyone's guess, but it's odd that Japanese Imperialist military spending from the 1930's is evaluated but American 9-11 related military spending in the new millennium doesn't get a mention in an otherwise useful book.