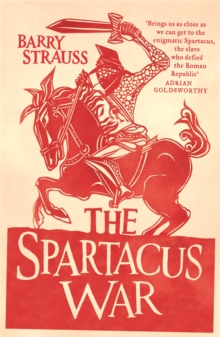 The Spartacus War : The Revolt of the Gladiators
Paperback
Description
The story of the most famous revolt of the ancient world, and its legendary leader, Spartacus the Gladiator. Spartacus was a Thracian gladiator who started a prison breakout with 74 men, armed with kitchen knives.
It grew into a full scale rebellion against Rome, the most famous slave revolt in history.
With an army of gladiators, ex-slaves and other desperadoes, he managed to defeat a succession of Roman armies and bring the Republic to its knees.
Information
Format: Paperback
Pages: 256 pages, maps
Publisher: Orion Publishing Co
Publication Date: 01/03/2010
ISBN: 9780753826980
Free Home Delivery
on all orders
Pick up orders
from local bookshops
Reviews
Showing 1 - 2 of 2 reviews.
Review by jcbrunner
16/06/2015
Triggered by the fun but horribly inaccurate TV series Spartacus Blood and Sand, I picked up Barry Strauss' The Spartacus War which just came out in paperback. The short text really helps in correcting many errors and provide some context. Unfortunately, Spartacus' fame vastly surpasses the factual basis about him. Strauss develops two strategies to counter this. The first, applied almost comically, is to repeat some facts over and over again to the point that one could easily develop a drinking game. The second strategy is to work with hypotheses and conjectures, which is fine and scientific. Strauss, however, has a knack to first elaborate about the lack of facts and then throw caution to the wind and ride his unfounded hypothesis to death. These two strategies noticeably diminish the pleasure of reading. Overall, it is a good introduction to a famous man, told from the slaveholder's perspective.Strauss has the odd habit of pushing his Republican talking points. There is simply no need to insert such political stuff into historical accounts. As an example, he writes on page 191: "We find crucifixions disgusting, but Romans probably tolerated them as a grim necessity. Nowadays many people reject the death penalty as cruel and unusual or criticize a tough interrogation technique like waterboarding as torture, while others accept them." Most critics of the death penalty object not to the cruelty (which is mostly a question of the executioneer's skill) but to the (frequent) miscarriage of justice. Unfortunately, the death penalty is applied mostly in states and countries where a fair trial and (color-)blind justice does not exist. Strauss' supposedly neutral presentation is heavily biased. The same holds true regarding waterboarding which is not an interogation but a torture technique (unless one applies the tortured syllogism: The US doesn't torture, The US waterboards, ergo waterboarding is not torture). Is there something in the water that turns classicists into rightwing nuts?
Review by shanaqui
16/06/2015
Well-written speculation about Spartacus, painting a picture of him that's honestly quite different to what I was expecting. Of course, it makes sense: he couldn't have done what he did if he weren't a good general, skilled at inspiring men and drawing up battle plans. This book makes that clear, though, and traces the things he did to hold his army together and train them.<br/><br/>From the little information available, Barry Strauss really did a good job here, while emphasising that most of it was speculation. And it was fun to read, which isn't always the case even with the most fascinating subjects when it comes to non-fiction. I actually read almost all of it in one go.