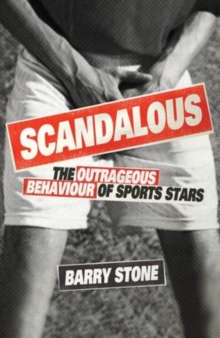 Scandalous : The Outrageous Behaviour of Sports Stars
Paperback / softback
Description
There is no shortage of sporting stars making headlines off the field for all the wrong reasons.
From dodgy dalliances bubbling to the surface, to marriages shattered, lucrative endorsement deals flushed down the toilet and clubs that can no longer hold onto players who have stuffed up in very big ways.
Leading the pack is champion golfer Tiger Woods, who hit the spotlight for reasons other than winning yet another tournament.
The saga of his dalliances with more than 100 women kept newspapers selling and mouses clicking.
Some superstars can't keep their fingers to themselves as texting has become all the rage for athletes looking for a bit of extra-curricular activity outside the family mansion. And football stars messing with teammates or their teammate's missus.
The flipside of fame means things don't stay secret for long for people constantly in the gaze of the public eye - mouth-watering fodder for the media.
Is it the pressures to succeed, the money and the fame?
Scandalous will look at the many issues behind the scandals and why professional sport seems to keep going regardless.
Information
Format: Paperback / softback
Pages: 304 pages
Publisher: Hardie Grant Books
Publication Date: 01/07/2012
Category: Sports & outdoor recreation
ISBN: 9781742702735
Free Home Delivery
on all orders
Pick up orders
from local bookshops