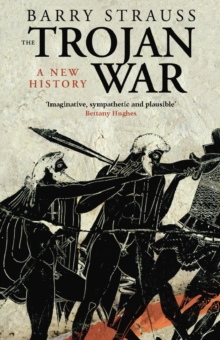 Description
Did the Trojan War really happen?Spectacular new archaeological evidence suggests that it did.
Recent excavations and newly translated Hittite texts reveal that Troy was a large, wealthy city allied with the Hittite Empire.
Located at the strategic entrance to the Dardanelles, the link between the Aegean and Black Sea, it was a tempting target for marauding Greeks, the Vikings of the Bronze Age.
The Trojan War may have been the inevitable consequence of expanding Greek maritime commerce. Written by a leading expert on ancient military history, the true story of the most famous battle in history is every bit as compelling as Homer's epic account - and confirms many of its details.
In The Trojan War, master storyteller Barry Strauss puts legend into its historical context, without losing its poetry and grandeur.
Information
Format: Paperback
Pages: 288 pages, 8 Illustrations, unspecified
Publisher: Cornerstone
Publication Date: 01/01/2008
Category: General & world history
ISBN: 9780099474333
Free Home Delivery
on all orders
Pick up orders
from local bookshops
Reviews
Showing 1 - 1 of 1 reviews.
Review by shanaqui
16/06/2015
I remember finding Barry Strauss' book on Spartacus entertaining and readable, which is probably why I asked for this for Christmas. I've always been interested in the Trojan War, and when it came to getting round to actually reading this I was a little hesitant -- I like my stories of cunning Odysseus and beautiful Helen, not the sordid truth. But so, apparently, does Barry Strauss -- and in fact he suggests that the work of Homer is a lot closer to the historical truth than modern scholars have tended to believe. I can't remember where I read it before, but probably in Bettany Hughes' book on Helen, but Strauss champions the idea that Homer's epics reflected years of oral history: not myth, mind, but actual history. The names of cities, the geography, the customs of both sides, all seem to fit, more or less.<br/><br/>Strauss sticks very close to the narrative of the Trojan War, using the names and roles described in Homer's epics. That seems to be going a little far to me -- it seems like Strauss verges on fiction -- but it does make his book readable and interesting, and when he does comment on the likelihood of certain aspects, that fascinates me. He is quite optimistic, for example, on the actual existence of the Trojan Horse, though not quite as described.