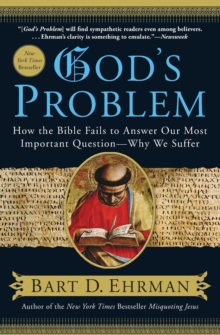 God's Problem : How the Bible Fails to Answer Our Most Important Question--Why We Suffer
Paperback
Description
One Bible, Many AnswersIn God's Problem, the New York Times bestselling author of Misquoting Jesus challenges the contradictory biblical explanations for why an all-powerful God allows us to suffer.
Information
Format: Paperback
Pages: 304 pages
Publisher: HarperCollins Publishers Inc
Publication Date: 24/02/2009
Category: Christian theology
ISBN: 9780061173929
Other Formats
Hardback from £15.75
EPUB from £5.99
Free Home Delivery
on all orders
Pick up orders
from local bookshops
Reviews
Showing 1 - 3 of 3 reviews.
Review by deusvitae
16/06/2015
This is Ehrman's rather personal look at the issue that caused him to "de-convert:" the existence of evil and, in his view, an insufficient answer or divine action regarding evil. The author spends most of the book going through the various answers that the Bible presents to explain the existence of evil: consequence of sin, free will, redemptive suffering, no real answer, and the apocalyptic perspective of the world being under the control of evil forces. The explanations are quite approachable, and, on the whole, fairly accurate, save for the author's prejudice toward the scholarly explanations for the Old and New Testaments. In the end, the work is deeply unsatisfying. Different answers for different situations are deemed "contradictory." Furthermore, when attempting to "refute" the various perspectives, strawman arguments are brought up. He rejects the apocalyptic view for highly questionable reasons, partly due to his (ironically) "fundamentalist" perspective on what the Kingdom "must be." His rejection of the concept of redemptive suffering is also quite facile, and does not really take into account the theological power behind God allowing His own Son to suffer, and the implications such has for the question.Ultimately, the book is unsatisfying because "evil" is really never defined, and the author's rather modernist, post-Enlightenment view seems to handle the question of what "evil" is on a quite facile level. The author would also exalt the position of man and his intelligence, and his interpretation of God's response to Job is quite telling in that regard. The book represents a good explanation of various Biblical perspectives, but the author's interpretation and philosophical presuppositions that color them are quite unsatisfying.
Review by rcss67
16/06/2015
I think this is the best of Ehrman's books. It asks the question that I ahve often asked- how can a loving God allow so much apparently needless suffering? And Ehrman, coming from a completely different religious background to me- evangelical compared to atheist/agnostic- has the courage to say that what he found has caused him to lose his faith. I suppose he was preaching to the converted in my case, but I have asked myself the same questions and it was nice to see him trawl the Bible and discuss its various appraches to this question. I dont want to offend believers so I wont go any further in this review than to ask that people ask, the next time a disaster happens and some survivor praises God for saving them- Why didnt God save the others too?
Review by AuntieClio
16/06/2015
I've been wanting to read Ehrman's work for quite a while, and this one did not disappoint. In God's Problem Dr. Ehrman delineates the several kinds of suffering in the Bible; suffering because Believers turned away from God and His law, suffering because Believers are His chosen people, suffering to prove God's greatness (i.e. Job), etc. Each level can be backed up with passages from the Bible, but what Ehrman does is point out where these themes of suffering clash with each other, and with life as we know it. Further, Ehrman contextualizes it in terms of the historic placement within society at the time of the biblical writing and compares it to how modern society (and Christians) view these writings. While Ehrman offers these comparisons, he's not afraid to say that no one knows for sure why suffering happens and frequently wonders how if God is so loving, how He can let such horrendous things occur in our world. A question older than the writings in the Bible itself. Based on this book, I know I'll be reading more of Ehrman's work.