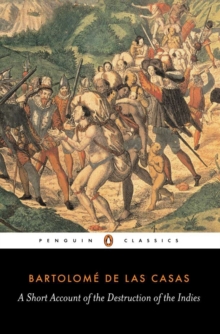 A Short Account of the Destruction of the Indies
Paperback
Description
Bartolome de Las Casas was the first and fiercest critic of Spanish colonialism in the New World.
An early traveller to the Americas who sailed on one of Columbus's voyages, Las Casas was so horrified by the wholesale massacre he witnessed that he dedicated his life to protecting the Indian community.
He wrote A Short Account of the Destruction of the Indies in 1542, a shocking catalogue of mass slaughter, torture and slavery, which showed that the evangelizing vision of Columbus had descended under later conquistadors into genocide.
Dedicated to Philip II to alert the Castilian Crown to these atrocities and demand that the Indians be entitled to the basic rights of humankind, this passionate work of documentary vividness outraged Europe and contributed to the idea of the Spanish 'Black Legend' that would last for centuries.
Information
Format: Paperback
Pages: 192 pages
Publisher: Penguin Books Ltd
Publication Date: 25/06/1992
ISBN: 9780140445626
Free Home Delivery
on all orders
Pick up orders
from local bookshops
Reviews
Showing 1 - 2 of 2 reviews.
Review by sealford
16/06/2015
If only even a quarter of this book is true, then the human race is truly to be pitied. I'm sure that most of it is indeed factual, and that is the sad part. Some people think that the New World just came into existence magically and that no one was living here prior. This book sheds some light as to what really happened and just how inhumane some people can be.
Review by HadriantheBlind
16/06/2015
Casas wrote this partly out of a very human concern for the lives of others, and partly from his own convictions and his sense of faith - he was convinced that God would punish the Kingdom of Spain for its sins unless something was done.<br/><br/>A retelling of wars, atrocities, tortures, exterminations, enslavement, and so forth in the 16th century in Cuba, Hispaniola, Mexico, Colombia. With contemporary illustrations! The main motives seem to be covered by greed for gold, deception with religion, or just cruelty. <br/><br/>This is also an early modern instance of atrocity being used as political propaganda, with Protestant nations such as England circulating this document as proof of Catholic depravity and corruption, and later historians attempting to white-wash (pardon the hideous pun) Spain's history, especially under the Franco regime. I recall another edition of the book being republished just in time for the Spanish-American War.<br/><br/>Although the majority of the Native American depopulation was likely carried out by disease, and some events appear to be exaggerated, this does not detract too much from de las Casas' frightening message. He saw terrible things happening and wanted to do something about it. It is this reason, and his being a lone voice in the wilderness, are why he endures.
Also by Bartolome de las Casas | View all