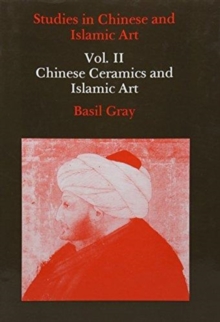 Studies in Chinese and Islamic Art : Islamic Art v. 2
Hardback
Description
This second volume of Basil Gray's studies covers his work on Chinese ceramics and on Islamic art.
Appropriately, Chinese ceramics proved the most potent medium in introducing Islamic artists to the motifs of Chinese painting, in view of their wide popularity in the Middle East.
The articles on Islamic art were written over a period of forty years.
Early studies on Persian manuscript painting of the Mongol period are followed by papers on Turkish and Indian manuscript illumination, and general studies on Chinese influence in Persian painting, and on textiles and glass.
Contents: Preface The Influence of Near Eastern Metalwork on Chinese Ceramics Persian Influence on Chinese Art from the 8th to the 15th Centuries Blue and White Vessels in Persian Miniatures of the 14th and 15th Centuries Re-examined Chinese Porcelain of the Fourteenth Century: I.
Blue and White. II. With Copper-red Decoration or Celadon Glaze. III. Ch'ang-pai The Export of Chinese Porcelain to India The Export of Chinese Porcelain to the Islamic World Chinese Porcelain of the Fourteenth and Fifteenth Century and the John Addis Gift Chinese Pottery and Porcelain in the Collection of Mrs. Alfred Clark The Sedgwick Bequest: Pottery and Porcelain Liao Pottery An Islamic Charm from Fostat A Fatimid Drawing Die 'Kalila wa Dimna' der Universitat Istanbul Fourteenth-century illustrations of the Kalilah wa Dimnah An Unknown Fragment of the Jami' al-Tawarikh in the Asiatic Society of Bengal: An Album of Designs for Persian Textiles Some Chinoiserie Drawings and their origin Chinese Influence in Persian Painting, 14th and 15th Centuries Two Portraits of Mehmet II Portraits of Mehmet II, Fatih Deccani Painting of the School of Bijapur Western Indian Painting in the Sixteenth Century: The origin of the Rajput School The Laur Chanda Manuscript after 30 Years The Man in the Panther Skin Gold-painted Glass under the Seljuks Thoughts on the origin of Hedwig Glasses: The Essence of Islamic Art Additional Notes Index.
Information
Format: Hardback
Pages: 384 pages, 247 illus.
Publisher: Pindar Press
Publication Date: 31/12/1987
Category: Asian history
ISBN: 9780907132202
Free Home Delivery
on all orders
Pick up orders
from local bookshops