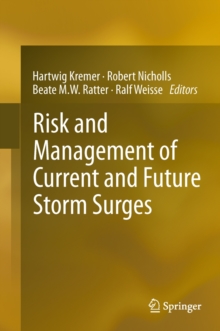 Risk and Management of Current and Future Storm Surges
Hardback
Description
Storm surges represent a major hazard for many coastal regions worldwide.
The 1953 and 1962 catastrophes are well remembered in Europe, and recent incidents in Bangladesh and Myanmar caused over 100,000 casualties.
Developing innovative responses and overcoming the frequently fragmented discussion about this global phenomenon and its regional implications call for improved knowledge of present risks and future conditions based on sound interdisciplinary approaches. This selection of articles presents multiple scientific and management oriented perspectives on current and future storm surges, covering the fields of observing, modelling and forecasting, risk and vulnerability analysis, planning and innovative coastal protection concepts.
It originates from the international `2010 Storm Surges Congress - Risk and Management of Current and Future Storm Surges,' initiated and organized by the Institute of Coastal Research, Helmholtz-Zentrum Geesthacht (formerly the GKSS-Research Centre) in collaboration with the KlimaCampus (CliSAP) of the University of Hamburg, Germany. The Land-Ocean Interactions in the Coastal Zone (LOICZ) co-sponsored the event and its international project office (IPO) provided the necessary organizational support.
The congress was generously supported by international and national partners.
Some highlights: Remote sensing surveillance and mapping of storm surge extent based on NASA MODIS sensors may ultimately provide new global insights into the vulnerability of deltas where human pressures outbalance natural land-ocean forcing.
Up-scaling hazard lines and risk mapping from local to full continental scale is the ambition in India.
From an insurance risk perspective, its societal perception and economic issues determine societal response options.
In urban contexts flood risk is anticipated as a combination of climate change-induced sea level rise and socio-economic drivers.
A cost-benefit analysis of flood defence in London underlines the fact that future investment will be highly beneficial; thoughtful planning rather than rushing to new engineering solutions is preferable.
Several modelling case studies and approaches are presented, covering the effects of individual storms, the development of analytical models that can help us to understand relevant processes and mechanisms, and sensitivity studies that test the impact and relevance of various physical processes for storm surge generation and evolution.
Hydrodynamic models applied to different emission scenarios suggest that the threat of extreme storm surges in the North Sea may increase but strong decadal fluctuations and internal variability need to be considered.
A Korean study suggests that future global warming may not always lead to an increase in the number of intense cyclones or the magnitude of associated storm surges. Past and recent storm surges arising at the dune coast of France call for improved assessment and management of a growing flood risk in future sea-level rise projections.
In the same context rather than deterministic approaches, considering the uncertainties that influence extreme water levels can significantly improve the design levels of coastal structures and flood defences.
The innovative Dutch "Building with Nature" concept employs natural processes for coastal flood protection. Previously published in Natural Hazards, Volume 66, No. 3, 2013
Information
Format: Hardback
Pages: 246 pages, 111 Illustrations, color; 40 Illustrations, black and white; VI, 246 p. 151 illus., 111 i
Publisher: Springer
Publication Date: 14/07/2013
Category: Insurance & actuarial studies
ISBN: 9789400767126
Free Home Delivery
on all orders
Pick up orders
from local bookshops