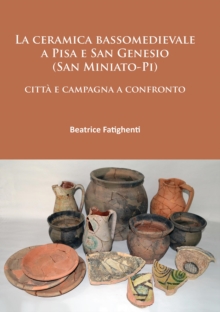 La ceramica bassomedievale a Pisa e San Genesio (San Miniato-Pi) : citta e campagna a confronto
Paperback / softback
Description
This book presents the study of pottery in two medieval contexts, Pisa (a city) and San Genesio (a central rural settlement in the Arno Valley).
The research focusses on specific issues observed in the two contexts, like characters of production (type of workshops, technological characteristics and characterization of ceramic bodies), specialization of pottery and circulation of the products; characters of consumption (similarities and differences in the composition of the pottery equipment and their modification); the role of social-economic indicator of some pottery classes to verify how much and when imported products from the Mediterranean were considered luxury items, if some types of local or regional pottery could have the same role, if the consumer wealth could be reflected in the specialization of ceramic forms used on the table and in the kitchen, if the desire to emulate aristocracy could be read even in the use of particular forms or pottery equipment; movement to understand in what way (whether by land or water), by what means and by what logic (market, pay census, barter) the pottery would move.
The data from this research helps define a picture of relations between town and countryside in the Arno Valley between Xth and XIVth century.
Information
Format: Paperback / softback
Pages: 234 pages, Illustrated throughout in black & white
Publisher: Archaeopress
Publication Date: 08/02/2016
Category: Medieval European archaeology
ISBN: 9781784912772
Free Home Delivery
on all orders
Pick up orders
from local bookshops