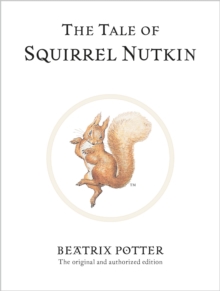 The Tale of Squirrel Nutkin
Hardback
Description
The Tale of Squirrel Nutkin is an original classic by Beatrix Potter.Beatrix Potter's famous tale of a naughty squirrel who loses his tail is as popular today as it was when it was first published over 100 years ago.
Join Nutkin, his brother Twinkleberry and all his cousins as they make their way over to Owl Island to gather nuts.
See what happens when Old Brown, the terrifying owl guardian of the island decides he has had enough of silly Nutkin's cheekiness!
Ouch!!Beatrix Potter is regarded as one of the world's best-loved children's authors of all time.
From her first book, The Tale of Peter Rabbit, published by Frederick Warne in 1902, she went on to create a series of stories based around animal characters including Mrs. Tiggy-winkle, Benjamin Bunny, Jemima Puddle-duck, Mr. Jeremy Fisher and Tom Kitten. Her humorous, lively tales and beautiful illustrations have become a natural part of childhood.
With revenue from the sales of her books, Beatrix Potter bought a farm - Hill Top - in the English Lake District, where she later became a farmer and prize-winning sheep breeder.
She launched the now vast merchandise programme by patenting the very first Peter Rabbit doll in 1903.
The product range continues to grow today with licences around the world including baby clothing and bedding, nursery decor products and collectables.
Upon her death, Beatrix Potter left 14 farms and over 4000 acres of Lake District farmland to the National Trust so that the place that she loved would remain undeveloped and protected for future generations to enjoy.Today Beatrix Potter's original 23 tales are still published by Frederick Warne, alongside a wide range of other formats including baby books, activity books and gift and sound books.The Tale of Squirrel Nutkin is number two in Beatrix Potter's series of 23 little books.
Look out for the rest!1 The Tale of Peter Rabbit2 The Tale of Squirrel Nutkin3 The Tailor of Gloucester4 The Tale of Benjamin Bunny5 The Tale of Two Bad Mice6 The Tale of Mrs. Tiggy-Winkle7 The Tale of Mr. Jeremy Fisher8 The Tale of Tom Kitten9 The Tale of Jemima Puddle-Duck10 The Tale of the Flopsy Bunnies11 The Tale of Mrs. Tittlemouse12 The Tale of Timmy Tiptoes13 The Tale of Johnny Town-Mouse 14 The Tale of Mr. Tod15 The Tale of Pigling Bland16 The Tale of Samuel Whiskers17 The Tale of The Pie and the Patty-Pan18 The Tale of Ginger and Pickles19 The Tale of Little Pig Robinson20 The Story of a Fierce Bad Rabbit21 The Story of Miss Moppet22 Appley Dapply's Nursery Rhymes23 Cecily Parsley's Nursery Rhymes
Information
Format: Hardback
Pages: 64 pages
Publisher: Penguin Books Ltd
Publication Date: 04/03/2002
Category: Picture books: character books
ISBN: 9780723247715
Other Formats
Hardback from £5.59
EPUB from £3.99
eAudiobook MP3 from £3.89
Free Home Delivery
on all orders
Pick up orders
from local bookshops
Reviews
Showing 1 - 3 of 3 reviews.
Review by lisa211
16/06/2015
This is a story of a naughty little squirrel name Squirrel Nutkin, who loves to tease Mr. Brown, an owl who lives on an island filled with nut trees, which fancy the other squirrels. Daily the squirrels came bringing gifts to Mr. Brown as to gain permission to harvest these nuts in return. While they are being polite, Squirrel Nutkin is prety much very naughty. He teases him with riddles, mostly ignore by the owl but when too much is too much one day, Mr. Brown punished Nutkins by having his tail torn off! This is a cute and enjoyable little story. It also teaches kids to not to tease people too much that they are out of line. The illustrations are beautiful. The riddles are cute. The plot and charcaters draws you in. Children would love to read or to be read to with this funny little "tail". Don't miss out inadding this book to your children's reading list.
Review by Treeseed
16/06/2015
Beatrix Potter is best known for her book The Tale of Peter Rabbit published in 1902 but that book was only the first in a collection of 23 tales featuring the animals and landscape of Potter's beloved Lake District. The Tale of Squirrel Nutkin is the second book in the popular series. Unlike Peter Rabbit's story Squirrel Nutkin's tale has little that will appeal to children in modern times. The illustrations, on the other hand, will still delight. All of Potter's tales are illustrated with her characteristic water color paintings that show little animals, ducks, rabbits, frogs, hedgehogs, squirrels, kittens, etc. going about their busy lives in the countryside. Often the main character is a mischievous youngster who gets into trouble but learns a valuable lesson. I love Potter's paintings because of their realistic details charmingly coupled with fantasy notions of animals with fanciful human attributes and occupations. The Tale of Squirrel Nutkin does not disappoint in this area. I think many adult art lovers will enjoy leafing through this book and will certainly appreciate the captivating little creatures and scenery. I love the gentle Victorian influences in the art and in the story. The story of the young red squirrel named Nutkin takes place during a fine Lake District autumn. Nutkin, his brother Twinkleberry and several of their cousins live on the shore of a lake. In the middle of the lake is an island covered with nut trees and bushes where lives the lord and master of the island, a large and powerful owl named Old Brown. The squirrels build rafts and sail over to the island each day for six days, (the seventh day being the Sabbath there is no action.) Each day they bring sacks and a different present to appease Old Brown so that he will grant them permission to collect nuts on his island. Each day nine or so polite little squirrels deliver their present and humbly seek permission, however there is one little squirrel who is consistently "excessively impertinent in his manners." You guessed it...Nutkin! He frolics around and teases Old Brown and every day he recites a different nonsense nursery verse or a silly riddle. He sings rudely, tickles Old Brown, skips, bobs up and down, laughs and even jumps on top of Old Brown! Mostly the owl just ignores him. Nutkin fools around while the other squirrels are working and plays marbles with oak-apples (acorns), sticks pine needles into robin's pincushions from a briar bush, and has a game of ninepins with a crab apple and some green fir cones. Eventually, in this tale of a tail, Nutkin pushes Old Brown too far. One frightful illustration shows the big owl with his talons around the throat of the helpless Nutkin. I'm sure you can guess what happens. I love the charming story, especially its quaint Victorian sentiments. One of the things I like best about it, however, is the very reason I do not think modern children will enjoy it. It contains several old riddles, one or two for each visit to the island, the answers to which can be found hidden in the text. For example here is an old Scottish riddle that Nutkin chirps at Old Brown on day six: Arthur O'Bower has broken his band, He comes roaring up the land! The King of Scots with all his power, Cannot turn Arthur of the Bower! Answer to the riddle: the wind. or how 'bout this one from day four: Hum-a-bum! buzz! buzz! Hum-a-bum buzz! As I went over Tipple-tine I met a flock of bonny swine; Some yellow-nacked, some yellow backed! They were the very bonniest swine That e'er went over Tipple-tine. Answer: bees The riddles are antiquated and even with the hint in the text young children who are the likely audience for this story will probably find them confusing or dull. Also confusing are the "presents" that the squirrels deliver to Old Brown. On the first day they give the owl three dead mice and on the second day, a fat dead mole. They give minnows and beetles. They wrap the beetles up in dock leaves secured with pine needle pins so they will look like plum puddings. The squirrels have human characteristics in that they speak and sing and make rafts and carry little canvas sacks...and well, they understand strange little riddles and know how to gift wrap. Talented rodents, these...but are they murderers, too? Explain to your child why squirrels kill other rodents like mice and moles in order to provide the payola for the Godfather owl crime boss. Well, you see, Johnny, squirrels are people and mice and moles are food so that's okay if they're dead. Um, owls are people, too, but they kill the squirrels if they don't get presents. Well, no, they're not human but they're people. No, our dog is not a person and he cannot sit at the table for supper. It's make-believe, Johnny. Sit quietly and I'll finish the story. Yes, the dead mice look real in the pictures and so do the squirrels...but the squirrels are pretend pretend and the mice are pretend real. The story is repetitious and not particularly long on action. Every day, paddle over to the island, give the owl a present, collect hazel nuts. Every day Nutkin acts like a nutter, gets in Old Brown's face, sings a riddle or nursery rhyme and goofs off while Twinkleberry and the cousins work. Finally violence erupts and the jolly (but perish the thought, rude) Nutkin is maimed as an ever present reminder of his impertinence. There is not much here to engage a modern child, especially not for one young enough to be content with such a short, picture driven story book. There are several difficult words for young children such as obstinately, gracious, nettle, scarlet, counterpane, Hackamore, waistcoat, groat, herring. These are not difficult for a well read child with access to a dictionary but again, it is likely not the well read child who will be enjoying these nursery books at mother or father's knee. My feelings on The Tale of Squirrel Nutkin and Beatrix Potter books in general are mixed. I love the art. I love the quaint Victorian text complete with a moral. I even love the old riddles. If these books were intended and marketed for crazy bookish old ladies with a nostalgic love for things Victorian, then...hip hip hooray! 5 stars! However, this book and the others of this series are to this day one of the most popular new baby gifts and have been a part of most every nursery library since they were written a century ago. Why then have I easily collected the entire set in several different sizes and formats from rummage sales (boot or jumble sales for my British friends)? Why? Because no one reads them and no children beg Mommy or Daddy for "just one more" before the lights are turned out. These are more or less purchased as classics (which they are) but they no longer seem to pass the kid test. I hope they never go out of print because they are works of art of a bygone day. However, since they have become somewhat obsolete they only get 3 stars from me when judged as a modern children's book.
Review by dukefan86
16/06/2015
This story's a good example of what can happen when you're obnoxious! Loved the illustrations in this Beatrix Potter tale.
Also in the Beatrix Potter Originals series | View all