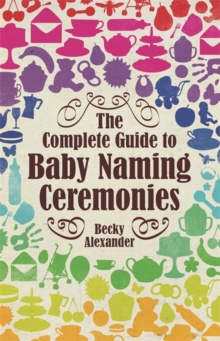 The Complete Guide to Baby Naming Ceremonies
Paperback
Description
If you would like to celebrate the arrival of a new baby with friends and family, but are looking for an alternative to a traditional christening, this is the book for you.
Civil weddings have been popular for a long time, but you can now have a Civil Naming ceremony for your child, held either at your local registry office, or at any venue of your choice.
As there is no legal requirement, you can hold the party at home, in your garden, or at any venue you like.
You can host the event yourselves, or ask a registered celebrant to host the event.
This book contains lots of ideas to make your civil naming ceremony memorable and unique to your family.
There are ideas for poems, readings, music, themes, and special ideas for how to mark the occasion.
Everyone can get involved; grandparents, siblings, and specially nominated adults who can act as guardians.
There are readings suitable for all. This book includes: - How to plan the naming party and ceremony - Ideas for indoors and outdoors decor, plus simple decorations - Providing entertainment and fun for children and adults - 10 special event ideas for the day, such as star naming, planting a tree and filling a time capsule - Traditional and contemporary ideas for readings and poems with new, specifically commissioned poems that are particularly relevant to this special occasion - Ideas and recipes for delicious food and drinkContents: Chapter 1; Introduction 1; A new trend; What is a naming ceremony?; What are your options?; Making everyone feel welcome; Welcoming a stepchild or adopted child; The question of godparents; Chapter 2; Planning the event; When to hold the naming ceremony; Choosing a time for the ceremony; Feature: Brunch party; Choosing a venue; Holding the ceremony at home; Feature: Beach party; Holding the ceremony outside; Holding the ceremony at a register office; Holding the ceremony somewhere different; Ideas for decorations; Feature: Afternoon tea party; Choosing music; Entertainment for children; Planning food and drink; Baby naming cake; Feature: Winter party; Making a toast; Gifts and thank yous; Chapter 3; The ceremony; Designing your own ceremony; Leading the ceremony yourself; Asking someone you know to lead the ceremony; The welcome Introduction; First reading; Announcing the name; Parents' promises; Godparents'/sponsors' promises; Second reading; Music and singing; Special ways to mark the day; Ending the ceremony; What happens at a register office; Chapter 4; Special ways to mark and remember the day; Doing something special; A best wishes book; Singing together; Making the ceremony personal; Handprint art; Balloon release; Sky lanterns; Photographs, DVDs and videos; Flowers; Planting during the ceremony; Planting trees; Candle lighting; Fill a time capsule; Sponsor a child; Name a star; Give your child the moon; Adopt an animal; Birthstones; Chapter 5; Poems and readings; Selecting poems; Poems for adults to read; Poems for children to read; Poems with a religious theme; Readings; Chapter 6; Choosing a name for your baby; Most popular boys' names in England and Wales; Most popular girls' names in England and Wales; Appendix: Further reading and resources.
Information
Format: Paperback
Pages: 184 pages, Illustrations
Publisher: Little, Brown Book Group
Publication Date: 28/07/2010
Category: Worship, rites & ceremonies
ISBN: 9781845284176
Free Home Delivery
on all orders
Pick up orders
from local bookshops