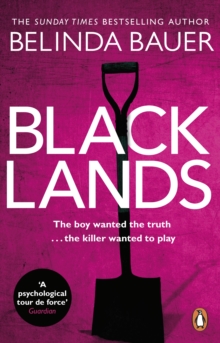 Description
Twelve-year-old Steven Lamb digs holes on Exmoor, hoping to find a body.
Every day after school, while his classmates swap football stickers, Steven goes digging to lay to rest the ghost of the uncle he never knew, who disappeared aged eleven and is assumed to have fallen victim to the notorious serial killer Arnold Avery.
Only Steven's Nan is not convinced her son is dead. She still waits for him to come home, standing bitter guard at the front window while her family fragments around her.
Steven is determined to heal the widening cracks between them before it's too late. And if that means presenting his grandmother with the bones of her murdered son, he'll do it.
So the boy takes the next logical step, carefully crafting a letter to Arnold Avery in prison. And there begins a dangerous cat-and-mouse game between a desperate child and a bored serial killer . . .
Information
Format: Paperback
Pages: 352 pages
Publisher: Transworld Publishers Ltd
Publication Date: 02/01/2010
Category: Crime & mystery
ISBN: 9780552158848
Free Home Delivery
on all orders
Pick up orders
from local bookshops
Reviews
Showing 1 - 5 of 17 reviews.
Previous | Next
Review by elkiedee
16/06/2015
An interesting debut crime novel. The subject matter was outside my comfort zone - the two central characters are a 12 year old boy and a serial killer in prison for murdering and torturing children. One of Avery's victims would have been Steven's uncle Billy, and Steven has the idea that it would help his grandmother to come to terms with what happened if he could find Billy's remains, so he starts writing to Avery to ask where the body is.I'm not sure I altogether liked this novel - the characters were either hard to love or not very developed. I do think it's quite well written, and I'm still thinking about aspects of the story though.
Review by austcrimefiction
16/06/2015
Whilst reading BLACKLANDS by Belinda Bauer it was a bit hard to get your head around the idea that this was a debut novel. it's so assured It wasn't at all surprising to find it had won a CWA Gold Dagger. It's the story of how the very determined, engaging and just a bit naive Steven Lamb decides to sort out the mess in his family.As the blurb puts it:"Dear Mr AveryI am looking for WP. Can you help me?SincerelySL, 111 Barnstaple Road, Shipcott, Somerset.He was only twelve, he reasoned: he couldn't be expected to get stuff like writing to serial killers right first time".Steven has always felt left out as his mother struggles with life and his Nan sits at the window waiting for her son to come home. It's been 20 years since Steven's Uncle Billy, then aged 11, went missing. Most people think he was murdered by notorious child serial killer Arnold Avery and buried somewhere on Exmoor. Steven's been spending all his spare time digging the moor, looking for his uncle's body, but even a 12 year old can work out how futile that is. So of course he writes to the killer. What he doesn't understand is that Avery is still very dangerous and very very bored.BLACKLANDS is cleverly constructed. Using a simple, very straightforward tone, there's a feeling of the young boy in every observation and word. Yet the story itself isn't simple, it's nuanced and layered, with good characterisations and a strong sense of place. It's also an interesting perspective - a crime committed 20 years ago having resonance all those years, and a generation on.
Review by maz74
16/06/2015
I wanted to like this book. The blurb was so intriguing. But it was dull, dreary and very unexciting. The end was laughable, and I stopped caring half way through. It was such a nice idea as well that it's a crying shame Bauer didn't pull it off.
Review by nicx27
16/06/2015
I was very keen to read Blacklands, and I wasn't disappointed. It's the story of Steven Lamb, a 12 year old boy whose Uncle Billy was murdered by a serial killer 19 years previously, when Billy was only 11. Steven's nan still waits at the window, looking for Billy coming home, because his body was never found. Steven decides that he could make his family happier, and therefore his home life better, by finding his uncle's body, and this leads him to contact Arnold Avery, the killer, in prison. What follows is a chilling correspondence between Steven and Avery.This book is quite unusual in that the chapters involving Steven do feel like they are from a 12 year old's perspective, but the chapters involving Avery are so chilling, when he relives his child killing spree, that I found them quite disturbing. I think it led me to dream a fair bit when I was reading this book! The story obviously has its roots in real-life, well-known, murders, and I think that was always in the back of my mind.It's a very well-written book, and the reader is pulled along with the story through to its gripping conclusion. I'll be interested to see what Belinda Bauer comes up with next. Recommended for those who like a psychological thriller.
Review by johnbsheridan
16/06/2015
The concluding author's note states "Blacklands was never intended to be a crime novel. I thought it was going to be a very small story about a boy and his grandmother". This for me was the main problem in that it didn't seem to reside comfortably in either category. For a crime novel, there wasn't enough plot or intrigue and for a family story it was far too dark. I struggled to get into the book and was tempted to cast it aside after the first 100 pages or so and would have done but for a general aversion on my part to not finishing books. As it was it was probably two-thirds of the way through the book before I became interested and wanted to reach the end. The conclusion does ratchet up the tension but even then it is presented in a somewhat piecemeal manner like jumping from one photograph to another rather than a smooth transition. For stories featuring a similar central character (twelve / thirteen year old boy) I would much prefer John Connolly's "The Gates" or Mark Haddon's "The Curious Incident of the Dog in the Night-Time" which I think are far superior. Overall if you are inclined to pick this book up unless you are looking for a hard-boiled mystery you are unlikely to be disappointed but I wouldn't recommend as I think there are better options.