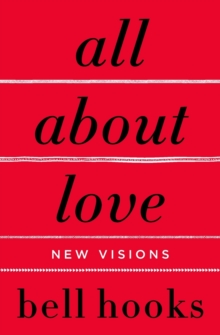 All About Love : New Visions
Paperback
Description
"The word "love" is most often defined as a noun, yet...we would all love better if we used it as a verb," writes bell hooks as she comes out fighting and on fire in All About Love.
Here, at her most provocative and intensely personal, the renowned scholar, cultural critic, and feminist skewers our view of love as romance.
In its place she offers a proactive new ethic for a people and a society bereft with lovelessness.As bell hooks uses her incisive mind and razor-sharp pen to explore the question "What is love?" her answers strike at both the mind and heart.
In thirteen concise chapters, hooks examines her own search for emotional connection and society's failure to provide a model for learning to love.
Razing the cultural paradigm that the ideal love is infused with sex and desire, she provides a new path to love that is sacred, redemptive, and healing for the individuals and for a nation.
The Utne Reader declared bell hooks one of the "100 Visionaries Who Can Change Your Life." All About Love is a powerful affirmation of just how profoundly she can.
Information
Format: Paperback
Pages: 272 pages
Publisher: HarperCollins Publishers Inc
Publication Date: 09/01/2001
Category: Popular culture
ISBN: 9780060959470
Free Home Delivery
on all orders
Pick up orders
from local bookshops
Reviews
Showing 1 - 3 of 3 reviews.
Review by redcedar
05/03/2016
hooks is not only an activist for change, she is an activist and a believer in the right to and power of love - and her recent trilogy on the subject explores this eloquently. when i was in california back in february, a friend recommended these to me, and i'm so glad. definitely these are some of the best and most progressive books i have read on defining, understanding, and looking for love within the patriarchal morass we often find ourselves in. love, she posits, is subverted by popular notions of love on television and in the movies - and it is a radical act to reclaim love, and to be open to it, and to live it. i found these books hopeful and moving and they made me realize my own rights to love free of coercion and violence, and that this is as worth a goal as any.
Review by pnkweetzie
05/03/2016
I have never read a book on love before, I had always thought them to be useless and probably coming from a point of view I don't embrace. When bell hooks wrote this book, I had to put my prejudices about relationship books aside for her, and I am glad I did. I was pleased at the sensitivity and well-rounded approach she takes to the foundation of love in our society and relationships. It would have been nice to have less of a heteronormative point of view, but she is a heterosexual women, so I guess I can understand.
Review by noodlejet22
05/03/2016
bell tells us about love. That love is a verb, something that we have to do. The main thing that I took away was that there are different types of love and that love is a choice. No more falling in love if it's a verb. Great book that is in direct odds with all the messages we hear and everything that we have been raised to think. a mind workout (a good mind workout).