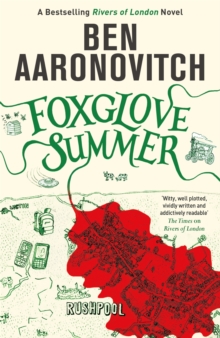 Foxglove Summer : The Fifth PC Grant Mystery
Paperback
Part of the PC Grant series
Description
In the fifth of his bestselling series Ben Aaronovitch takes Peter Grant out of whatever comfort zone he might have found and takes him out of London - to a small village in Herefordshire where the local police are reluctant to admit that there might be a supernatural element to the disappearance of some local children.
But while you can take the London copper out of London you can't take the London out of the copper.Travelling west with Beverley Brook, Peter soon finds himself caught up in a deep mystery and having to tackle local cops and local gods. And what's more all the shops are closed by 4pm ...
Information
Format: Paperback
Pages: 384 pages
Publisher: Orion Publishing Co
Publication Date: 09/07/2015
Category: Fantasy
ISBN: 9780575132528
Free Home Delivery
on all orders
Pick up orders
from local bookshops
Reviews
Showing 1 - 2 of 2 reviews.
Review by reading_fox
27/08/2015
Fifth in the series. Much better, a lot closer to the original and probably the highpoint so far. Regains some flair and novelty, with a good balance between the gritty police procedural aspects and the policeman's humour at life, and even better works in some more of the backstory explaining the history and motivations behind a few of the characters who have been enigmatic blank slates before. As a distraction from Leslie's betrayal Peter goes to the countryside to check that one of the few remaining (if senile) practitioners on the Folly's books is not involved with a local child kidnap case. He doesn't seem to be even if his daughter is somewhat odd. However when Beverly comes to visit, he realises that there is something weird that's happened with the missing children, and so he's forced to cope on his own, Nightingale being required to protect the secret Folly Vaults from any attempt at infiltration by Leslie. It's a contrived device, but does successfully manage to integrate this book into a series rather than as it has previously felt, being a succession of episodes that have -very unlikely- all happened to Peter. Ben has rather over-egged the inner-city lad exposed to the countryside for the first time meme, but it does have some very funny moments. The interactions with Beverly are great, and the whole fae world seems to just work far more intuitively than the other interventions Ben has created, sticking to the basic lore, but twisting it as per the current universe seems to work better, and be more understandable and believable. This remains a more light-hearted series than either Harry Dresden or Peter Cornell's work, but none-the-less enjoyable for all that.
Review by wyvernfriend
02/03/2016
This series is so much fun, PC Peter Grant is caught perfectly between the world of the supernatural and being a cop. It comes across as believable and so much fun.Peter gets drawn into a missing children case that will have him a fish out his regular waters in Herefordshire rather than his home patch of London. He gains a variety of allies and has plans for the future by the end.I laughed my way through and read chunks out to my husband and encouraged a fantasy fan at work to try the series, what can be said that's better than that?Peter deals with a lot of issues, discovering more about himself and about the things that make his life as a cop strange, you can also see him clinging onto the familiar police procedures to keep his sanity intact and to have some sort of control over things that he's just trying to understand if he has any hope of controlling. His relationships with Beverly and Lesley continue to have complications and be interesting sidelines to his investigations.I like this series and I enjoy the characters.