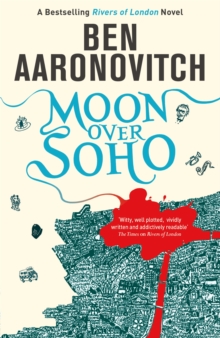 Moon Over Soho : The Second PC Grant Mystery
Paperback
Part of the PC Grant series
Description
I was my dad's vinyl-wallah: I changed his records while he lounged around drinking tea, and that's how I know my Argo from my Tempo. And it's why, when Dr Walid called me to the morgue to listen to a corpse, I recognised the tune it was playing.
Something violently supernatural had happened to the victim, strong enough to leave its imprint like a wax cylinder recording.
Cyrus Wilkinson, part-time jazz saxophonist and full-time accountant, had apparently dropped dead of a heart attack just after finishing a gig in a Soho jazz club.
He wasn't the first. No one was going to let me exhume corpses to see if they were playing my tune, so it was back to old-fashioned legwork, starting in Soho, the heart of the scene.
I didn't trust the lovely Simone, Cyrus' ex-lover, professional jazz kitten and as inviting as a Rubens' portrait, but I needed her help: there were monsters stalking Soho, creatures feeding off that special gift that separates the great musician from someone who can raise a decent tune.
What they take is beauty. What they leave behind is sickness, failure and broken lives.And as I hunted them, my investigation got tangled up in another story: a brilliant trumpet player, Richard 'Lord' Grant - my father - who managed to destroy his own career, twice.
That's the thing about policing: most of the time you're doing it to maintain public order.
Occasionally you're doing it for justice. And maybe once in a career, you're doing it for revenge.
Information
Format: Paperback
Pages: 384 pages
Publisher: Orion Publishing Co
Publication Date: 01/10/2011
Category: Fantasy
ISBN: 9780575097629
Free Home Delivery
on all orders
Pick up orders
from local bookshops
Reviews
Showing 1 - 5 of 14 reviews.
Previous | Next
Review by AHS-Wolfy
16/06/2015
This book picks up almost directly after the conclusion to the last, <i>Rivers of London</i> and as such will be impossible to exclude at least minor spoilers for the first in the series. Jump to the end if you just want overall thoughts.Peter Grant, apprentice wizard and full-on police constable, is currently acting as the go to guy for weird cases while his boss, Chief Inspector Nightingale, recuperates from the ending of the last book. Dr Walid gets him to check the body of a Jazz musician who apparently died of natural causes straight after a gig. When traces of vestigia (a kind of magical resonance) is found, in the shape of a Jazz classic tune, Peter realises that enquiries will need to be made. When initial investigations find a number of similar cases his thoughts turn to possibilities of a jazz vampire being on the loose. Such is case #1.Case #2 goes back to a scene that seemed quite jarring from <i>Rivers of London</i>. That was the bit at the end with the rugby player and his missing, distinctly male, appendage. It's up to Peter to track down whoever is biting off said appendages with her distinctly female parts.The two cases seem to have some crossover. Are they linked in some way? Apart from characters mentioned there are others returning from the previous book and we get to learn more of Peter's past when he asks his dad about the jazz case. We also get to learn more of Nightingale and Molly and of course the City of London features just as much as it did in the first instalment. The police procedural element is still a strong part of the story as is the black humour that those who have to deal with crime scenes often use in such situations. While case #1 is fully solved by the end of this book, case #2 provides what appears to be the main series arc and will run into at least one more book, <i>Whispers Under Ground</i>, which is due out in March 2012 by the looks of things.If you enjoyed <i>Rivers of London / Midnight Riot</i> then there is little doubt that you will enjoy this one and while you don't necessarily have to have read that one before <i>Moon Over Soho</i> it would certainly help with character development and understanding if you did.
Review by christinelstanley
16/06/2015
I love the first person narrative and Peter Grant is a great character. I really enjoyed this sequel to the Rivers of London, but it lost a star at the very end, since I felt that there were too many unanswered points about the black magician. BUT I'm wondering if I missed something due to the format, this time I used an audiobook, listening whilst driving to and from work, so maybe it's just me. can't wait for the next book in the series to be released in March
Review by TPauSilver
16/06/2015
Moon over Soho is a fun and interesting read. I have the distinct disadvantage in reading this that I didn't read the first book first but jumped right in here, but I sitll found this interesting. There was enough back story to fill you in without swamping the book. The world-building is interesting, I loved the idea of the gods of the london rivers and about the intersection between a magical urban fantasy world and the mundane police force. The plot was a little trite, I had it worked out long before the cop did while is never a good thing, and I had no real sense of suspense at the end. This is very much a middle book, there's never any feeling that something big is at stake. That said, for a middle book it's very good. I love how London and London life is woven in to the plot so centraly, you couldn't set this book anywhere else and have it be the same book. The characters are all complex, if a little slow on the uptake, and I love how the main character's entire life is would up in the story, his home, his family, his job etc. Give it depth. So, yeah, it's a fun middle book, has a plot of it's own, even if it's a little obvious, builds on the characters I presume are from the first book and sets up a villain for later books.
Review by wyvernfriend
16/06/2015
So Peter Grant has survived his introduction to the fine balancing act of being a member of the London Metropolitan Police Force and being a wizard. His friend Lesley is trying to cope with her destroyed face and having to move back to be with her parents and not knowing what she's going to able to do in the future. It's mostly because of his father that he spots the link between some recent deaths. They appear normal but there's something else there, something strange, they're all Jazz players and finding what's killing them is almost going to kill him, and his boss.I love this series. The characters are well rounded and come to life on the page, he holds the numinous close to the real and you can imagine it really happening. I could imagine this as a TV series and would probably be hooked from the first episode.
Review by wrichard
16/06/2015
A development on Rivers of London. This magical realism book follows on from the first one with a different type of case where a supernatural being kills jazz musicians. A light, interesting detective story.