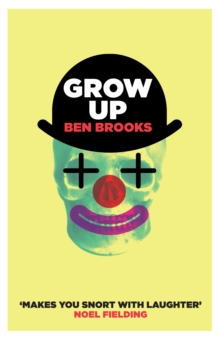 Description
Who says youth is wasted on the young?Jasper wants to get on in the world, but life is distracting.
He's got his A-levels to contend with, his mother pushing him to overachieve, weekly visits to his psychologist, come-downs, YouTube suicides and pregnant one-night-stands. And then there's his step-dad - the murderer. Hilarious and heartbreaking by turns, GROW UP is the ultimate twenty-first-century coming-of-age novel.
It paints a vivid portrait of the pills and thrills and bellyaches of growing up today.
Funny, smart and twisted, it is the story of one young man transformed.
Information
Format: Paperback
Pages: 240 pages
Publisher: Canongate Books Ltd
Publication Date: 01/07/2011
ISBN: 9780857861870
Other Formats
EPUB from £3.37
eAudiobook MP3 from £8.24
Paperback from £16.99
Free Home Delivery
on all orders
Pick up orders
from local bookshops
Reviews
Showing 1 - 2 of 2 reviews.
Review by TheLostEntwife
16/06/2015
I recently went to a friend with the following statement about this book: "Good golly I read a coming-of-age book last night that was so foul languaged and filled with sex, drugs and alcohol that I don't know how to talk about it on the blog.. because I actually enjoyed it." Then I realized, that's exactly what I wanted to say about Grow Up by Ben Brooks. Frankly, I needed to grow up and face the fact that, in spite of its numerous moral deficiencies, this book tackles tough, hard issues teenagers are facing every single day and it doesn't give them a "hero" to make them feel as if they are losing some kind of battle because they can't measure up.Grow Up is the story of a boy and a girl, best friends, who make mistakes left and right. They lie, they do drugs, they have sex, they drink, they party, but most of all, they are hurting and it's so transparent it made my heart ache. Because in the middle of all of these harsh realities and the foul language, the boy and the girl, they are there for one another in a bond of friendship so strong it gave me hope.When I found myself faced with star ratings on review sites, I honestly struggled with myself because, in terms of how potent this book is, and how hard it made me think, and how quickly I devoured it, it rates off the charts. But the other messages being flagrantly broadcast, and here is the deciding factor on that, the lack of consequences for those actions tilts the rating factor to the opposite side -so I end up right in the middle.Grow Up is not a book for the faint of heart. Don't go into the book expecting warm and fuzzy emotions and tears. Go in expecting to be offended and disgusted - but don't let those emotions overwhelm you because no matter how offensive the teens are in this book, just like the teens you will, no doubt come into contact with, they have something else buried deep in side of them just crying out to be heard.
Review by beadsthat
16/06/2015
In the process of reading this book. The only reason a middle aged housewife like me is reading this is because it is written by a local boy...who is good friends with my daughter's boyfriend's brother. My daughter's boyfriend's name is Jasper and the main character is named after him. Thank God the Jasper we know is nothing like the Jasper in this book although I am enjoying the fictional character...love his sense of humor. Have not gotten too far into the book yet but I hope to continue to like this character throughout. Ben Brooks is a brilliant writer for such a young person and will look for his other works to read in the future. I just hope I can keep both Jaspers where they are and not blur the two otherwise there will be alot of questions that need to be answered...Jasper! :)