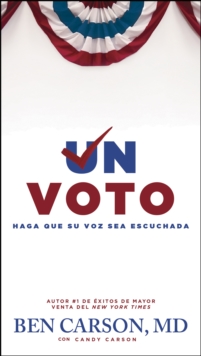 Description
Descubra el verdadero poder de votar
La gran mayoria de estadounidenses sienten que la nacion se esta moviendo en la direccion equivocada. Sin embargo, en la ultima eleccion presidencial, voto menos gente.

Nosotros, el pueblo, debemos darnos cuenta de que tenemos el poder por medio de nuestro voto personal. Si no ejercitamos ese poder, !no tenemos derecho de quejarnos!

En Un voto, el Dr. Ben Carson hace una exhortacion urgente, independiente e imparcial a cada ciudadano estadounidense para ejercitar el poder de su voto en cada eleccion.

Despues de leer este libro, usted sabra como:
Hacer las preguntas correctas sobre los candidatos, los partidos y el historial de votos
Encontrar a los candidatos y a los partidos politicos que coinciden con sus valores
Determinar como han votado su senador y su congresista en el pasado
Discover the True Power of the Ballot
The vast majority of Americans feel that our nation is moving in the wrong direction. Yet, in the last presidential election, more people did not vote than voted for either candidate.
We, the people, must realize we hold the power through our one vote. If we do not exercise that power, we have no right to complain!
In
One Vote
, Dr. Ben Carson makes an urgent, nonpartisan, and unbiased plea for every American citizen to exercise the power of their vote in every election.
After reading this book, you will know how to:
Ask the right questions about candidates, parties, and voting records
Find the candidates and political parties that coincide with your values
Determine how your own senator and congressman have voted in the past
Information
Format: Paperback
Publisher: Tyndale House Publishers, Inc.
Publication Date: 01/09/2015
ISBN: 9781496410306
Free Home Delivery
on all orders
Pick up orders
from local bookshops