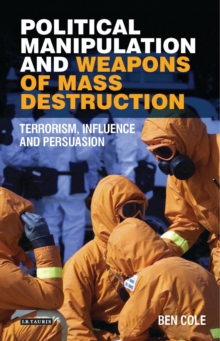 Political Manipulation and Weapons of Mass Destruction : Terrorism, Influence and Persuasion
Hardback
Description
Concerns about CBRN (Chemical, Biological, Radioactive, Nuclear) weapons have featured prominently in both political debates and media reporting about the ongoing threat from al Qaeda since 9/11.
This book provides a chronological account of al Qaeda's efforts to acquire a CBRN weapon capability, and the evolution of the al Qaeda leadership's approach to actually using CBRN weapons, set against the context of the politicisation of the threat of CBRN terrorism in US security debates.
Ben Cole explores how the inherently political nature of terrorist CBRN threats has helped to shape al Qaeda's approach to CBRN weapons, and shows how the heightened political sensitivities surrounding the threat have enabled some governments to manipulate it in order to generate domestic and international support for controversial policies, particularly the 2003 invasion of Iraq.
He assesses the relative success of the al Qaeda leadership's political approach to CBRN weapons, together with the relative success of efforts by the US, UK and Russian governments to exploit the al Qaeda CBRN threat for their wider political purposes. Shedding new light on al Qaeda's tactics and strategy, this book will be essential reading for scholars of terrorism and extremism studies.
Information
Format: Hardback
Pages: 416 pages
Publisher: Bloomsbury Publishing PLC
Publication Date: 11/12/2017
Category: Weapons & equipment
ISBN: 9781784538859