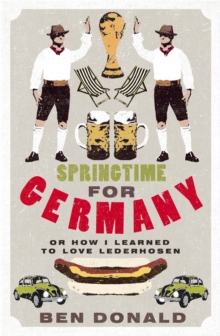 Springtime for Germany : or How I Learned to Love Lederhosen
Paperback
Description
With no apparent sense of humour and their excessive speed when securing sunloungers, the German people and their country have had a terrible reputation among the British since time immemorial (or 1914).
So, going where very few travel-writers and holidaymakers have gone before, Ben Donald has visited Germany in order to overturn stereotypes and, at the same time, fall back in love with travel.
From the massed ranks on the nudist beaches of Germany's north coast (they have a reputation for liking uniform, but they'd much rather be naked), via intimate encounters in the steam-rooms of Baden-Baden and the brothels of Hamburg (where he makes his excuses and leaves), to the rite of passage that is wearing Lederhosen to the Oktoberfest (which takes place in September), the author has put his body and his dignity on the line to get beneath the skin of this most maligned of countries.
He even goes to see a German stand-up comedian. In - where else? - England. And what emerges is a Germany that will surprise many who thought they knew the country and its people; an eye-opener in other words - especially those nudist beaches.
Information
Format: Paperback
Pages: 320 pages, Integrated: 1, b/w int.
Publisher: Little, Brown & Company
Publication Date: 14/06/2007
Category: Travel & holiday guides
ISBN: 9780316732475
Free Home Delivery
on all orders
Pick up orders
from local bookshops
Reviews
Showing 1 - 1 of 1 reviews.
Review by RidgewayGirl
16/06/2015
Ben Donald's book was both frustrating and informative. It aims for a humorous look at those wacky Germans, which is a niche that is sadly under filled, given the sheer quantity of similar books focusing on the French, Italians or even Brits. There are just not a lot of fun ways to learn about German culture and customs or even books that just give a feel of the place. <i>Springtime for Germany</i> has a bad beginning, starting as it does with the fictional and silly premise that the author comes under the helping hand of a travel therapist, because he has lost his love of exploring new places. This therapist, a ridiculous German American named Manny, send the author to various places in Germany, each time having his concentrate on a different aspect of the German soul. It also begins with a snarky tone of amused contempt for the Germans, which made the first few chapters less than enjoyable. But as Donald proceeds along in his travels, he settles down and begins to be interesting. I've been living here and knew most of the cultural references to some degree or another, but he often was able to provide me with a deeper understanding of several of these. And it's always fun to run into references to these cultural tics, as they are not well known outside of Germany. For example, there is a New Year's tradition here to watch a short British film called <i>Dinner for One</i>. This is something every German is as familiar with as we in the US are with <i>How the Grinch Stole Christmas</i>, but I've never met a non-German who ever saw it. This guy knows German culture and he had some interesting things to say about the reasons Germans value order and rules so much and why it isn't a big deal for them to sit in a sauna naked with strangers. All in all a useful and interesting book marred by the author's need to force the humor. He's genuinely amusing when he isn't trying so hard.