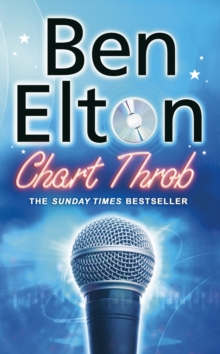 Description
Chart Throb.The ultimate pop quest. Ninety five thousand hopefuls. Three judges. Just one winner. And that's Calvin Simms, the genius behind the show.
Calvin always wins because Calvin writes the rules. But this year, as he sits smugly in judgement upon the mingers, clingers and blingers whom he has pre-selected in his carefully scripted 'search' for a star, he has no idea that the rules are changing.
The 'real' is about to be put back into 'reality' television and Calvin and his fellow judges (the nation's favourite mum and the other bloke) are about to become ex-factors themselves. Ben Elton, author of Popcorn and Dead Famous returns to blistering comic satire with a savagely hilarious deconstruction of the world of modern television talent shows. Chart Throb. One winner. A whole bunch of losers.
Information
Format: Paperback
Pages: 464 pages
Publisher: Transworld Publishers Ltd
Publication Date: 04/06/2007
ISBN: 9780552773768
Other Formats
CD-Audio from £11.75
EPUB from £3.99
Free Home Delivery
on all orders
Pick up orders
from local bookshops
Reviews
Showing 1 - 5 of 13 reviews.
Previous | Next
Review by mydogatebob
16/06/2015
Not Ben Elton's best effort, but a brilliant insight into the world of reality TV. The larger than life characters have their funny moments, but often I found myself wanting to cringe at their antics. All in all, a good silly read, but I wouldn't recommend it as more than a holiday book.
Review by judithann
16/06/2015
Great parody. A good read, though sometimes a little tiresome, just like those talent shows are! You wonder, is it really that fake in real shows?
Review by maxsumillion
16/06/2015
im not a great fan of Ben Elton myself but i found this book to be witty and a great insight into singing TV shows such as X-factor. Pick it up if you are a fan of the author or X-factor/Pop idol but otherwise its got a thin plot and the jokes are few and far between.
Review by isabelx
16/06/2015
I would recommend this book to any reality television fans whose illusions won't be shattered by the amount of behind-the-scenes manipulation in this X Factor satire. If you really believe that the X Factor is a talent contest which the best singer will win, you may like to skip this book, especially if you see Sharon Osbourne as a lovely motherly person who hates to send any of the contestants home. Although Ben Elton has made the female judge on the Chart Throb panel a transsexual ex-rock star with a drug-addled wife and twin step-daughters who like to annoy her by calling her Dad instead of Mum, Beryl's mannerisms and comments to the contestants are totally Sharon Osbourne.I wouldn't say that this is one of Ben Elton's best books, as it was repetitive and the story dragged at times, but I found it very funny and didn't spot the final twist coming at all.
Review by verenka
16/06/2015
I didn't get aroun to reading it on the beach in Croatia, but I should have. It was pretty much what I expected. It's a very cynical story about a UK talent show. The story's dialogue is highly repetitive, and is in danger of getting boring, but at the same time it's a stylistic element that certainly fits for these types of shows. The story builds and builds until I expected a huge showdown, which turned out to be completely different from what I expected and that's what I like. And with Ben Elton there's always a bit of a mindfuck involved, isn't there? I also like his epilogues.