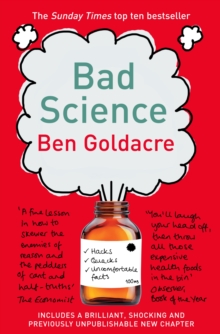 Description
Ben Goldacre's wise and witty bestseller, shortlisted for the Samuel Johnson Prize, lifts the lid on quack doctors, flaky statistics, scaremongering journalists and evil pharmaceutical corporations.Since 2003 Dr Ben Goldacre has been exposing dodgy medical data in his popular Guardian column.
In this eye-opening book he takes on the MMR hoax and misleading cosmetics ads, acupuncture and homeopathy, vitamins and mankind's vexed relationship with all manner of `toxins'.
Along the way, the self-confessed `Johnny Ball cum Witchfinder General' performs a successful detox on a Barbie doll, sees his dead cat become a certified nutritionist and probes the supposed medical qualifications of `Dr' Gillian McKeith.Full spleen and satire, Ben Goldacre takes us on a hilarious, invigorating and ultimately alarming journey through the bad science we are fed daily by hacks and quacks.
Information
Format: Paperback
Pages: 288 pages
Publisher: HarperCollins Publishers
Publication Date: 01/04/2009
Category: Popular science
ISBN: 9780007284870
Other Formats
EPUB from £5.49
CD-Audio from £17.95
Paperback from £7.69
Free Home Delivery
on all orders
Pick up orders
from local bookshops
Reviews
Showing 1 - 5 of 17 reviews.
Previous | Next
Review by gward101
16/06/2015
I hadn't come across Ben Goldacre's Bad Science column in The Guardian before reading this book, which is a shame as it's the sort of thing I usually enjoy, but at least I've now got a pretty clear idea of what I've been missing. This is a crash course in the kind of clear-headed debunking of charlatans, scaremongerers and shysters the author so obviously specialises in. I got the impression that the initial aim here was (while making some serious points) to provide a lighthearted look at some of the more preposterous pseudo-science claims and media scares currently in circulation. What it comes out as is a just-under control - if entirely justifiable - near-rant by a man of science left confounded by the idiocies of the modern world.
Review by charlytune
16/06/2015
I occasionally read Ben Goldacre's column in the Guardian, so had an inkling of what to expect, and the book is very much in the same vein as that column if you've ever come across it. Ben Goldacre very simply and clearly explains how 'evidence' is manipulated by pharmaceutical companies, vitamin pill peddlars, and various quacks and TV 'doctors'. I usually pride myself on my healthy cynicism and my intelligence, but this book made me realise how much I accept claims made in the media, and trust what I read in supposedly respectable newspapers. I found the book is easy to read , apart from a section on statistics which had me drifting off elsewhere - but thats not his fault, it needs expalining as part of the book. Quite simply this book quickly and effectively demolishes many of today's widely held beliefs (such as vitamins prevent cancer), and educates the readrer in how to look at things objectively. After reading this I felt liberated, and want to spread the word by buying everyone I know a copy - especially the hardcore homeopaths & crystal healers among them... Highly recommended for anyone who values rational thought over hysterical ignorance.
Review by klarusu
16/06/2015
I love this book. It's not just that I agree with most of what Ben Goldacre says (I do, but that's beside the point), it's that this is a testament to the importance of informed, evidence based argument when dealing with hot-topic scientific issues that oft-times get distorted by media hyperbole. Goldacre breaks down the basis of scientific method and review and reconstructs it, chapter by chapter, using pertinent examples of how the modern media and practitioners of alternative medicine warp the facts to suit their own ends. It should be compulsory reading for anyone starting a PhD or embarking on a career in any form of medical science. If there's one take home message, it's that you don't have to agree with Dr Goldacre but you do have to be informed by scientific evidence if you actually disagree. It's well written and a quick read and should be essential reading for anyone who has an interest in their own health and well being and a desire to be empowered to make evidence-based decisions on their own health care. Scientific fact is not just for scientists and this is a work that goes a long way towards making it seem more accessible to us all. It's a sobering thought that any one of us is probably as qualified to comment on hot health topics as the majority of the journalists who report health issues. Liking Ben Goldacre and his writing style (which can be abrasive and blunt) is not a pre-requisite to getting the most out of this book. Sometimes blunt is better.
Review by TheoSmit
16/06/2015
I bought this book because of a review in PPC. If you are a foody and don't know what PPC is, ask me.I had expected something a bit funnier, but Mr Goldacre is very serious indeed. He worries about our lack of understanding of science and he points out some very grave consequences. Please read the book.He is so angry that it may be relevant to note that his views aren't radical at all. This is a very sensible and if I may say so moderate person deeply worried about what is called the `culture gap' in the Netherlands.The only point where I disgree with him is when he doesn't take the New Age movement seriously as a threat to rationality. This may be because they are not in his remit (or maybe he just thinks that these people are nuts and so beyond hope). I don't know, I didn't ask him. But I in any case find it deeply worrying that people with academic degrees (and I know such people) seem willing to believe anything and everything without a single critical thought. Thank goodness I also know somebody who grew up as a child of two New Agers and is now studying godsdienstwetenschappen (I don't know how this is called in English. In Dutch it means Science of Religion which sounds odd to my ears) to make sense of that.
Review by hotchk155
16/06/2015
It was no surprise to me to read how "scientific research" is routinely twisted, abused, ignored, cherry-picked or simply made-up by people with something to sell. However, this book gets specific and really shows you what is going on... how the results of this casual abuse of "science" can be far from harmless. Some parts of the book will make you seethe with anger... others will make you laugh... others will fascinate you (for example the real and mysterious power of the placebo). It's a book for anyone, and Goldacre tries to stay clear of overwhelming the reader with too much detail, but in some cases (like demonstrating how statistics can be misused) things get quite deep.For me, this book is to encourage people to OPEN THEIR EYES AND THINK. Don't accept unquestioningly the words of anyone who claims to speak with scientific authority if they are trying to sell you something. Whether thats pills, ranges of food, magic crystals or just newspapers, books and TV shows.* When you hear another "scientists have discovered..." story in the news you might Google it yourself and find it's just a clever marketing company getting a free ad for some dubious product. * You might start to see through the vitamin pill salesman and authors of diet books, who somehow manage to get themselves presented in the media as serious medical authorities. * You might stop thinking there is some David and Goliath battle going on between evil pharmaceutical companies and heroic alternative medicine practitioners and realise they are all as bad as each other (except that pharmaceuticals are regulated)* When some tabloid newspaper reports some new massive health scare or miracle cure, remember their job is to sell newspapers - and those kind of headlines are simply the ones that work the best.and so on...