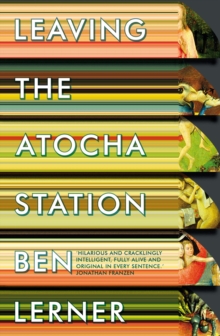 Leaving the Atocha Station
Paperback
Description
Adam Gordon is a brilliant, if highly unreliable, young American poet on a prestigious fellowship in Madrid, struggling to establish his sense of self and his attitude towards art.
Fuelled by strong coffee and self-prescribed tranquillizers, Adam's 'research' soon becomes a meditation on the possibility of authenticity, as he finds himself increasingly troubled by the uncrossable distance between himself and the world around him.
It's not just his imperfect grasp of Spanish, but the underlying suspicion that his relationships, his reactions, and his entire personality are just as fraudulent as his poetry.
Information
Format: Paperback
Pages: 192 pages
Publisher: Granta Books
Publication Date: 01/03/2013
ISBN: 9781847086914
Free Home Delivery
on all orders
Pick up orders
from local bookshops
Reviews
Showing 1 - 3 of 3 reviews.
Review by freelancer_frank
16/06/2015
This is a book about being young. The narrator, who is not endearing, displays all the self-absorption, lack of concern and misapprehension that one remembers from ones own youth. Layered over this is a glimpsed appreciation of art, a yearning for greater immersion in the world and a constant worry about authenticity. The book has some originality and is a reasonably absorbing read.
Review by Opinionated
27/08/2015
I found myself enjoying this book almost despite myself. The protagonist, Adam Gordon, is a young American poet on a scholarship in Spain. He is lonely, disconnected, and insecure, and thinks of himself as a fraud. He spends his days smoking hash, taking anti depressants and wondering if he will ever have a "profound experience of art". And any reader who has ever found himself alone in a foreign country without friends or urgent purpose will relate to some of this, regardless of the pills or the hashBut then he is rescued by the artistic Antonio, and his angelic and accomplished sister Teresa. Why they should want to do this is unclear. Antonio wants to publish Adam's poems, which Adam implies are basically fraudulent in the sense that they dont "mean anything" but are just confections of words. From the samples he provides I would tend to concur. Teresa wants to translate them. Both of them want to launch and mentor Adam into Spanish artistic circles and are endlessly patient of his social ineptitude, incompetence and capacity to embarass himself .Adam acquires a girlfriend, Isabel, it is not clear how. In fact everything about Isabel is unclear - no physical description of her is ever provided other than she wears her hair in a scarf. She also wants to take Adam under her wing, and show him her Spain. Its not clear, at least to Adam, whether she really cares for him and he makes a series of misjudgements on the assumption that she does notThe Atocha station bombings happen and Adam can only observe them as an outsider he doesn't really feel any impact. He pursues Teresa romantically, but its not clear whether his feelings are reciprocated, whether Teresa tolerates his romantic designs as part of her mentoring role, whether she is waiting for him to be more assertive, or whether, as an angel, she is simply inscrutable. What Lerner seems to want to say is that understanding a foreign culture is simply impossible however well you speak a language. Adam's Spanish is clearly good, if not perfect. But his lack of perfect understanding and his feeling that he is seeing everything through a clouded filter (plus the hash and the tranqs) causes him to be uncertain, nervous and paranoidSeeing Spain through Adam's eyes, I too was uncertain about a number of things. Does Isabel really care? What on earth does she see in this wastrel? Are his poems any good? Do they just work better in Spanish? What is Teresa's motivation? What does Antonio see in him? Or are they just kind people being nice to a lonely foreigner? So I enjoyed the book, despite wanting to slap Adam every 5 pages.As a secondary point, I note the book has been translated into Spanish and can't help wondering how a book about not understanding Spanish, translates into Spanish,,,
Review by Bernadette877
27/08/2015
The kind of literary fiction where not much happens plot wise (despite the Madrid train bombing). Adam's an American poet on a research fellowship in Spain. Starting as a non-Spanish speaker, he indulges the fantasy that language is a barrier to true communication, leading to misunderstandings, face saving lies and far from fluent back-tracking. Over time he better translates the subtleties of developing relationships via a second language and in a different social and political culture. At least, his lies become more fluent. All complicated by his choice to live in a dissociated fog of prescription medicine, hash and alcohol. As his friend Teresa puts it: "When are you going to stop pretending you're only pretending to be a poet?" This is poet Ben Lerner's first novel and I hope he writes more.