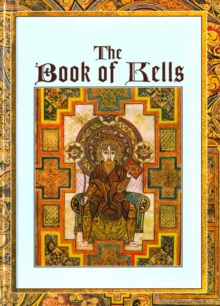 The Book of Kells
Hardback
Description
The Book of Kells is the richest and most copiously illustrated book of in the Celto-Saxon style that still survives. However, despite its rarity and fame, there is little that is known about it. Reproducing over sixty of the wonderful images from the book itself, this guide describes the hidden meanings behind the illustrations and opens our eyes to the history behind them. Picking out the most interesting, beautiful and unique images from the 339 vellum leaves that comprise the book as a whole, it gives an illuminating insight into the manuscript and its creation.
This book will appeal to everyone from the hundreds of thousands of people visiting the Book of Kells at Trinity College Dublin every year, to those interested in history, art, ancient artefacts or the gospels and anyone with a passion for beautiful objects.
Information
Format: Hardback
Pages: 64 pages
Publisher: Ebury Publishing
Publication Date: 06/03/2008
ISBN: 9780091926342
Free Home Delivery
on all orders
Pick up orders
from local bookshops
Reviews
Showing 1 - 1 of 1 reviews.
Review by donbuch1
16/06/2015
This little introduction to the Book of Kells gives general background about the most decorated manuscript of the Christian Gospels. For the serious scholar of illuminated codices, it is only a cursory study. As mentioned, St. Columba established the monastery of Kells and oversaw the development of the Book. On the pages of explanation juxtaposed to 24 plates, some detail regarding the images and style of the text appear. However, more information about the lens into the Celtic-Saxon culture would have helped to understand its place in history. Also there was little mention of the type of materials used to create the Book. For instance, on some pages,a blue pigment found in the minerals near the foot of the Himilayas gives clues as to historical trade routes. Further, the arrangement of the lettering, according to scholars, suggest that three monks worked on the pages, one of which had a very flamboyant style of calligraphy. As for the images, (which the study does give some detail regarding Christ images), some of the figures drawn in the Book resemble cartoons that may represent certain extant community members. Hence this little introduction serves the purpose of a tourist pamphlet rather than anything remotely approaching a complete overview.