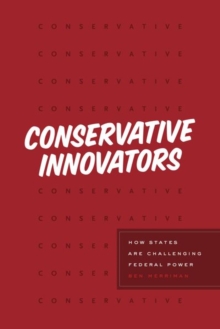 Conservative Innovators : How States Are Challenging Federal Power
Hardback
Description
As American politics has become increasingly polarized, gridlock at the federal level has led to a greater reliance on state governments to get things done.
But this arrangement depends a great deal on state cooperation, and not all state officials have chosen to cooperate.
Some have opted for conflict with the federal government. Conservative Innovators traces the activity of far-right conservatives in Kansas who have in the past decade used the powers of state-level offices to fight federal regulation on a range of topics from gun control to voting processes to Medicaid.
Telling their story, Ben Merriman then expands the scope of the book to look at the tactics used by conservative state governments across the country to resist federal regulations, including coordinated lawsuits by state attorneys general, refusals to accept federal funds and spending mandates, and the creation of programs designed to restrict voting rights.
Through this combination of state-initiated lawsuits and new administrative practices, these state officials weakened or halted major parts of the Obama Administration's healthcare, environmental protection, and immigration agendas and eroded federal voting rights protections.
Conservative Innovators argues that American federalism is entering a new, conflict-ridden era that will make state governments more important in American life than they have been at any time in the past century.
Information
Format: Hardback
Pages: 232 pages, 3 line drawings, 8 tables
Publisher: The University of Chicago Press
Publication Date: 01/05/2019
Category: Political science & theory
ISBN: 9780226620282
Other Formats
Paperback / softback from £20.89