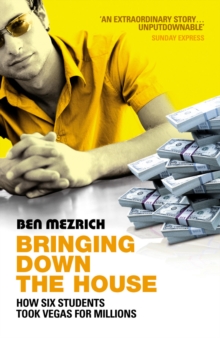 Bringing Down the House
Paperback
Description
Real life all too rarely offers stories that are quite as satisfying as fiction.
Bringing Down the House is one of the exceptions: a real-life action thriller oozing with money, sex and some extremely dodgy dealing...Cheating in casinos is illegal; card-counting - making a record of what cards have so far been dealt to enable the player to make some prediction of what cards remain in the deck - is not.
But casinos understandably dislike the practice and make every effort to keep card-counters out of their premises.
Bringing Down the House tells the true story of the most successful financial scam ever, in which teams of brilliant young mathematicians and physicists won millions of dollars from the casinos and blackjack tables of Las Vegas, in the process getting drawn into the high life of drugs, sex and spending big.
Bringing Down the House is as readable and as fascinating as Liar's Poker or Barbarians At the Gate, an insight into a closed, excessive and utterly corrupt world of gambling in Las Vegas.
Information
Format: Paperback
Pages: 320 pages
Publisher: Cornerstone
Publication Date: 01/01/2004
Category: True crime
ISBN: 9780099468233
Other Formats
EPUB from £4.99
eAudiobook MP3 from £15.08
Free Home Delivery
on all orders
Pick up orders
from local bookshops
Reviews
Showing 1 - 2 of 2 reviews.
Bringing Down the House was a very enjoyable and easy read. It grips you from the first page with a nerve wrecking description of a mule's walk through airport security till it spits you out at the end after having shown you the various facets and history of Las Vegas' card counters. It's a book that definitely opens your eyes to the life styles of a select few and I don't mean celebrities or business/entertainment moguls. At the same time it covers the people involved in a very personal way which makes you identify with the characters very quickly. If you like strategy, suspense and a good story then you'll like this book and no doubt, the other book swritten by the author.
Review by Capfox
16/06/2015
So here's a classic story: team of underdogs find their way into a crack in the system and use it to attack the empire. Right? That's what we have here, in a sense. It's hard to argue that casinos don't represent a big power base - after all, they win at just about anything they allow you to play, in the long run. Except maybe for blackjack, and that's where this story begins.Blackjack is exploitable, you see, if you can keep track of the cards and you know the strategy, and Mezrich tells the story of a team of players from MIT who got together and, making use of the strategy of knowing when the odds come to favor the player in blackjack, as a team took the casinos for huge amounts of money before getting burned out. It's an intrinsically intriguing story, as Mezrich notes at the outset, watching the lead character, Kevin Lewis, get trained, take on a bigger and bigger role on the team, and enjoy the fruits of his labors. When the end comes, though, it comes almost too quickly.Here's the thing about this book for me: as enjoyable as the story is, there's not really much in the way of nuance to the telling of it; Kevin is shown having some doubts about the life he's leading as he's going along, but really, not too much. And maybe that's really how it was, but beyond the chapters showing other people being like "dude, you can't beat Vegas forever" to Mezrich, it's really a charge straight ahead kind of book. That makes it fun enough, and a fast read, but it's almost too slick; it feels unreal.And maybe that's really my main issue with the book: it really does feel unreal. This is really more of a movie-style "based on a true story" book, rather than non-fiction proper; it feels that way when you're reading it, and some of the principle people involved (including Mezrich) have owned up to it not all being true. Some of the events were made up for dramatic effect, but beyond that, as a reader of more wholly truthful non-fiction, it's hard to accept this style of extended dialogue and quotes, and such. No one was taping these conversations, and so it feels like this misrepresentation of the story when you're reading through it.I have a feeling I might have enjoyed this more if it had been billed as not being entirely real; it's still a good story, and it's slick, glossy and fast, much like Vegas, I guess. I enjoyed it, but I'm not giving it much more than a tepid recommendation. You could do worse for a plane ride, though.