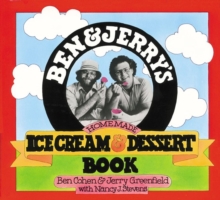 Ben and Jerry's Homemade Ice Cream and Dessert Book
Paperback
Description
With little skill, surprisingly few ingredients, and even the most unsophisticated of ice-cream makers, you can make the scrumptious ice creams that have made Ben & Jerry's an American legend.Ben & Jerry's Homemade Ice Cream & Dessert Book tells fans the story behind the company and the two men who built it-from their first meeting in 7th-grade gym class (they were already the two widest kids on the field) to their "graduation" from a $5.00 ice-cream-making correspondence course to their first ice-cream shop in a renovated gas station.
But the best part comes next. Dastardly Mash, featuring nuts, raisins, and hunks of chocolate.
The celebrated Heath Bar Crunch. New York Super Fudge Chunk. Oreo Mint. In addition to Ben & Jerry's 11 greatest hits, here are recipes for ice creams made with fresh fruit, with chocolate, with candies and cookies, and recipes for sorbets, sundaes, and baked goods.
Information
Format: Paperback
Pages: 128 pages, Col.ill.
Publisher: Workman Publishing
Publication Date: 05/01/1987
Category: Desserts
ISBN: 9780894803123
Free Home Delivery
on all orders
Pick up orders
from local bookshops
Reviews
Showing 1 - 5 of 5 reviews.
Review by wenestvedt
16/06/2015
The perfect recipes for nature's perfect food.I no longer need to consult the book for the basic recipes, but I thumb through it periodically for inspiration.My wife, against her better judgement, got me an ice cream maker some years ago, and we've been making our own since then. I tried a lot of different recipes before I found this book, which I have since given as a gift to several happy recipients. As a former Haagen-Dazs scooper (Hi, Emie and Charles and Brin and everyone!), I can with enthusiasm say, Best. Ice cream. Ever.
Review by Calico
16/06/2015
I'd say this is a good introduction to making ice cream, and will inspire enthusiasm. Once you've got going though, I'd recommend 'Ices' by Caroline Liddell and Robin Weir, which is really thorough.
Review by LisaLynne
16/06/2015
This has some great ice cream recipes! There is also a lot of good explanation and a clear understanding that not all recipes are created equal. Some recipes work well in small batches and should be eaten immediately, some work well in large batches and can be stored without losing flavor. There are a couple in here that are regulars on my summer table.
Making ice cream at home is highly recommended. If you use organic ingredients like we do, the cost is still under premium priced store bought. And you can experiment freely. We bought the attachment for our KitchenAid mixer and you would not believe how easy and fast you can do this.
Review by Melanielgarrett
16/06/2015
This is the best ice cream book I've ever seen. Gives you all the basics you need to then create your own stuff. Sublime.