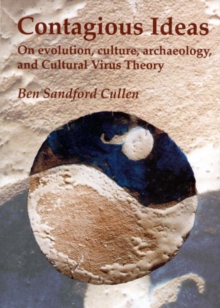 Contagious Ideas : On Evolution, Culture, Archaeology and Cultural Virus Theory
Paperback
Description
Neo-Darwinism is becoming an increasingly important influence on archaeological theory, as a number of recently edited books on `Darwinian archaeologies' make clear.
However, many of these volumes are internationally inconsistent and reflect the muddled understanding many archaeologists have of the potential of Darwin's thought for interpreting material culture.
Ben Cullen's book starts by critiquing some recent neo-Darwinist approaches, including cultural evolutionism and cultural sociobiology.
He then presents a neo-Darwinian paradigm of extreme power, which he has termed the Cultural Virus Theory (CVT).
This focuses on explaining the transmission of ideas by comparing cultural memes wit natural genes.
In the final section he takes the important step of applying this theory to real materials; demonstrating how CVT can be used to understand the spread of megalithic monuments in prehistoric North-West Europe, the diffusion of the renaissance in medieval Europe and the basis of stylistic change in pottery.
Tragically this collection of brilliant thoughts is published posthumously.
Ben Cullen was close to finishing a major book when he died suddenly in 1995 and his writings have been gathered into a consistent whole by James Steele, Richard Cullen and Christopher Chippendale.
Information
Format: Paperback
Pages: 300 pages
Publisher: Oxbow Books
Publication Date: 01/12/2000
Category: Archaeological theory
ISBN: 9781842170144
Free Home Delivery
on all orders
Pick up orders
from local bookshops