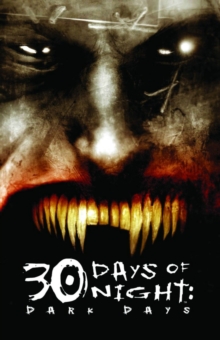 30 Day of Night: Dark Days
Paperback
Description
* This story follows Stella Olemaun's efforts to warn the world about the threat the vampires pose - the vampires who overran Barrow, Alaska, killing her husband and most of the town.
With an exclusive introduction by screenwriter Eric Red (The Hitcher, Near Dark), the flat-out terror of Dark Days will reaffirm the dominance of Niles and Templesmith over the realm of illustrated horror fiction.
Information
Format: Paperback
Pages: 144 pages, illustrations
Publisher: Idea & Design Works
Publication Date: 07/04/2004
Category: Comics and Graphic Novels
ISBN: 9781932382167
Free Home Delivery
on all orders
Pick up orders
from local bookshops
Reviews
Showing 1 - 4 of 4 reviews.
Review by Arctic-Stranger
16/06/2015
I actually liked this volume better than volume one, but then I live in Alaska, and don't find that angle all that exotic. Niles seems to get a little lost in the middle of his work, but he can hammer out a very good ending, and this one is exceptional. If you liked the original, you will like this one as well. There are confusing moments, and I could have done with a bit more explanation of some things, but overall it was satisfying. The art work is spotty, and does not capture the atmosphere here as well as the original, which takes place in Barrow, Alaska. Some of the drawings are quite crude, while others are very subtle.
Review by Jacey25
16/06/2015
30 Days of Night Dark Days is the sequel to the original 30 Days of Night which of course spawned the movie which Josh Hotness, I mean Harnett. The first comic book is fantastic- atmospheric, moody, creepy, gorey, adrenaline infused .... probably far superior to the movie. This follow-up volume fell way flat for me. It follows one of the leads from the first graphic novel as she (Stella) attempts to reveal the existence of vampires to the world. I think it was just poorly done for the first 2/3rds of the story- slow, awkward ... not well introduced or built up. The last 1/3rd of the story was interesting again though. The artwork remains visceral and haunting.Two and a half stars (only because the last 1/3rd was interesting and the artwork was good)
Review by stephmo
16/06/2015
We follow Stella Oleman, one of the few survivors of the Barrow massacre as she is on her book tour for her own <i>30 Days of Night</i>. The book tour is a means to an end, with Stella and her entourage hoping to show the world that vampires do exist and need to be hunted down and killed to protect humankind. Best laid plans and all, this quickly explodes into a vengeance story gone off the rails as we learn that Stella isn't the only one with a score to settle. It's not a story that suffers needlessly from anything other than what one would expect in this sequel - every major character is focused on revenge. Even when new elements are added to the vampire legend, they're added in the name of revenge. Ben Templesmith's distinctive look is back for this volume and brings the same frenetic tone to the story. Combined with the quick storyline, this is a very quick and easy read. Nothing that will stretch one intellectually, but it makes for a good popcorn read.
Review by kraaivrouw
16/06/2015
Although I was a bit lukewarm on the story of 30 Days of Night, I was anything but lukewarm about the art. Great concept altogether and I'll put up with a little bit of hokieness in the story for art of this stellar quality.Dark Days follows Stella Olemaun and her crew as they try to warn the world about the vampires. The story here is much much better. Taking characters out to play in twilight Los Angeles and letting them blow things up, battle vampires, and generally kick some major ass is highly entertaining. Again the art is absolutely gorgeous.Templesmith renders the work in tones of sepia that add to that feel you get if you're walking at night in L.A. Everything's kind of smoggy and brown and fuzzy and the streetlights barely cut through the mess of the atmosphere. It's very noir and the usual big red splashes where you can't quite figure out what's going on punctuate the rhythm of the story. Templesmith makes great art - I'd put up with no story just to feast my eyes.This one reminded me a lot of the game, Vampire: The Masquerade: Blood Lines, a vampire RPG that takes place in Los Angeles. There's a gritty downtown feel to both. This isn't the pretty part of L.A. - all sunshiney beaches and smiling plastic people. This is the seamier side, in some ways what's always felt to me like the real LA - what's left when you strip away the fingernail scrapings deep surface.Great horror comic. Highly recommended.