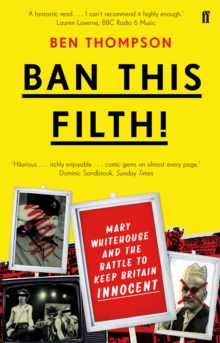 Ban This Filth! : Letters from the Mary Whitehouse Archive
Paperback
Description
In 1964, Mary Whitehouse launched a campaign to fight what she called the 'propaganda of disbelief, doubt and dirt' being poured into homes through the nation's radio and television sets.
Whitehouse, senior mistress at a Shropshire secondary school, became the unlikely figurehead of a mass movement for censorship: the National Viewers' and Listeners' Association, now Mediawatch-uk.
For almost forty years, she kept up the fight against the programme makers, politicians, pop stars and playwrights who she felt were dragging British culture into a sewer of blasphemy and obscenity.
From Doctor Who ('Teatime brutality for tots') to Dennis Potter (whose mother sued her for libel and won) to the Beatles - whose Magical Mystery Tour escaped her intervention by the skin of its psychedelic teeth - the list of Mary Whitehouse's targets will read to some like a nostalgic roll of honour.
Caricatured while she lived as a figure of middle-brow reaction, Mary Whitehouse was held in contempt by the country's intellectual elite.
But were some of the dangers she warned of more real than they imagined?Ben Thompson's selection of material from her extraordinary archive shows Mary Whitehouse's legacy in a startling new light.
From her exquisitely testy exchanges with successive BBC Directors General, to the anguished screeds penned by her television and radio vigilantes, these letters reveal a complex and combative individual, whose anxieties about culture and morality are often eerily relevant to the age of the internet. 'A fantastic read ...I can't recommend it highly enough.' Lauren Laverne, BBC Radio 6 Music
Information
Format: Paperback
Pages: 416 pages
Publisher: Faber & Faber
Publication Date: 05/09/2013
Category: British & Irish history
ISBN: 9780571281510
Free Home Delivery
on all orders
Pick up orders
from local bookshops
Reviews
Showing 1 - 1 of 1 reviews.
Review by AdonisGuilfoyle
16/06/2015
I was a child of the 80s, but my first awareness of Mary Whitehouse, the crusading housewife out to 'clean up TV', came from the 1990s sketch show <I>The Mary Whitehouse Experience</I>. The woman was a national institution, and her name still triggers a reaction from anyone over 30. Ben Thompson's irreverent yet awestruck biography is wonderfully entertaining - he has a wry style that balances the absurdities of the Mary Whitehouse 'archives', including Mary's own barbed correspondence with the high and the mighty of the BBC, plus some corkers from the mentally unstable members of 'CUTV' and 'NVALA' (that's the National Viewers and Listeners Association, founded by Whitehouse, and not 'a fictional African chief', as Thompson points out!)Mrs Whitehouse might sound completely bonkers, yes, but she was crazy like a fox - her technique for presenting humourless and narrow-minded requests for censorship in politely practical letters to BBC bosses and MPs read like a masterstroke of manipulation. Not many of her target recipients accepted her views, of course, but that didn't put her off. Mad Mary even packed in her job - she was formerly a teacher, which makes perfect sense - to dedicate her life to harassing TV execs and other distributors of tasteless material. I started reading the book in state of shock - primarily at Mrs Whitehouse's unshakeable belief that the nation should be protected from her own viewing prejudices, but also from the knowledge that TV in the 1960s could actually be shocking! There were only two stations, and I though they both shut down at midnight. But after a few chapters, I developed a grudging respect for Mary - she had the right idea, and the intelligence to plan a campaign and set her protests into practice, however ineffectual, but she was fighting the wrong battles. Instead of focusing on the sexual exploitation of women, or the banning of <i>A Clockwork Orange</i>, she counts the number of times 'bloody' is spoken in an episode of <i>Starsky and Hutch</i>, or complains about the risqué dancers on the Benny Hill show. I detest the sort of nanny state she was seeking, where people must be protected from their own weaknesses - that's what the 'OFF' button on the TV set is for - but if Mary were alive today, she would be rolling in her grave! Some of the best excerpts are from NVALA letters - reviews of films like <I>The Exorcist</I> ('I will not dwell upon the details of this transformation except to say that from then on her teeth were discoloured'); <I>Walkabout</I> ('Just imagine the thoughts in these children's minds, wondering if ever their father would [shoot at them]?'); and <I>Casanova</I> ('We switched off, having been too stunned before'). Like the viewers today who watch an entire programme that offends them, just so that they can write in to <i>Points of View</i>. Scary.I couldn't decide whether to be glad that we have so much freedom of choice on television today, or sad that standards - both of programming and morals - have declined so much since Mary's heyday. TV today, for all the hundreds of channels available, is dismal, and sadly well beyond the control of a bunch of middle-class, middle-aged ladies. I did enjoy Ben Thompson's retrospective championing of Mary's best intentions, though!