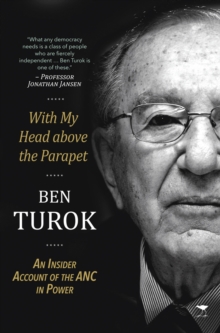 With my head above the parapet : An insider account of the ANC in power
Paperback / softback
Description
Ben Turok, a former anti apartheid activist and veteran ANC MP, played a key role in the writing of the Freedom Charter, in particular its chapter dealing with economic equality.
In November 2011, he broke party ranks and did not vote for the controversial Protection of Information Bill, also known as the Secrecy Bill.
As cochairman of Parliament's ethics committee, he enforced strict compliance among MPs with the asset disclosure policy and presided over two controversial cases-those of former communications minister Dina Pule and ANC MP Yolanda Botha, who faced charges of fraud and corruption.
With My Head above the Parapet is a record of Ben Turok's experience as a participant in the political life of South Africa since 1994.
It is also an insightful account of the ANC's decline and current malaise, told by an insider intent on holding his party to its historical mission of liberating South Africa from poverty, inequality, and discrimination.
Information
Format: Paperback / softback
Pages: 256 pages
Publisher: Jacana Media (Pty) Ltd
Publication Date: 09/04/2014
Category: Political parties
ISBN: 9781431410415