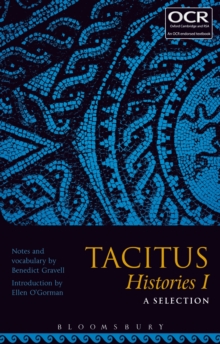 Tacitus Histories I: A Selection
Paperback
Description
This is the endorsed publication from OCR and Bloomsbury for the Latin AS and A-Level (Group 1) prescription of Histories Book I sections 4 (finis Neronis ...) to 7, 12-14, 17-23 and 26, and the A-Level (Group 2) prescription of Histories Book I sections 27-36, 39-44 and 49, giving full Latin text, commentary and vocabulary, with a detailed introduction that also covers the prescribed text to be read in English for A Level. Histories I starts in AD 69, during the civil war after the death of Nero.
Tacitus describes the unstable conditions in the Roman Empire, as different generals are elevated by their soldiers to the position of emperor.
In the prescribed selection, rebellion and violence break out in the city of Rome, as the Praetorian Guard of the emperor Galba transfer their support to a controversial younger man, Otho.
Tacitus vividly portrays the elderly Galba's attempts to maintain order and discipline as power slips from his grasp, while Otho inspires the disorderly soldiers, keeping control only with difficulty over this volatile group of men. Resources are available on the Companion Website www.bloomsbury.com/ocr-editions-2019-2021
Information
Format: Paperback
Pages: 192 pages, 3 bw illus
Publisher: Bloomsbury Publishing PLC
Publication Date: 19/04/2018
ISBN: 9781350010154
Free Home Delivery
on all orders
Pick up orders
from local bookshops