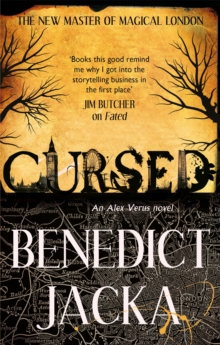 Cursed : An Alex Verus Novel
Paperback
Description
Things are going well for Alex Verus. He's on moderately good terms with the Council, his apprentice is settling in and his shop in Camden is gaining quite a reputation.But when a mysterious woman bursts into the Arcana Emporium one night with an assassin on her tail, Alex is thrown into a plot to revive a long-forbidden ritual.
His old enemies are after the secret, as well as a Council mage named Belthas and a mercenary named Garrick, and at least one of them is trying to get Alex killed - if he only knew which.He can see the future, but knowing who to trust is something else.
Information
Format: Paperback
Pages: 336 pages
Publisher: Little, Brown Book Group
Publication Date: 01/06/2012
Category: Fantasy
ISBN: 9780356500256
Free Home Delivery
on all orders
Pick up orders
from local bookshops
Reviews
Showing 1 - 3 of 3 reviews.
Review by riverwillow
16/06/2015
I think this series may be building into something quite good, but its not quite there yet. The relationship between Alex and Luna, his not-quite apprentice, is at the heart of this book. Luna's found a boyfriend who may or, according to Alex hasn't, found a way to control Luna's curse. I loved Alex's complex reactions to Luna's relationship, and Luna's delight at finally being able to get close to someone without fearing the consequences - we saw a little of this in Fated but it was nice to see this used as a way of developing the story. I will look out for the other books in the series as I'm interested to see how this develops.
Review by RSard
16/06/2015
I picked up this copy cheap at a sale, and I'm glad I did. I might have hesitated to pay full price for it - somehow it and the author had never crossed my horizon - and that would have been a pity.The story is told with verve. Technically the writing might have a few weak points, but the point is _I didn't care_. while I was reading. It was a magical buckle-your-swash along for the ride kind of story that is fun to read. The feel of the world was real without being overwhelming (always a tricky balance) and the characters were interesting and meshed with the plot development. Alex is a pragmatist with at least some sense of humanism/morals, a position which makes things awkward for him - not least in his dealings with his apprentice. At what point should doing what someone else wants (friendship and support) become subservient to what they need (mentoring) especially when it is what you want as well? How do you become a teacher and stay a friend? Can you? And what about friends in trouble? What lengths do you go to, what risks do you take for them? What if they aren't human and don't 'count' in others eyes?This one will be going on the shelf. YA, but perfect for anyone needing distraction from real life.
Review by ChrisWeir
16/06/2015
Was my first encounter with Veris, but must say I'll be looking for the first book and the future installments of the series. I started reading this and realized crap it's a modern British novel, not really my genre of choice. Re-read the back cover and I'm like oh, the monkey's paw that's why you bought it. That being said was enthralled in the first 30 or so pages. Read nearly half of the book in one sitting.Veris is a mage in modern day London. He plays kind of a reluctant hero as he is not a "battle" mage. But seems to be the normal or lesser guy who becomes the hero in the novel. Excellent read and as noted will be looking for other installments in the series to come.
Also in the Alex Verus series | View all