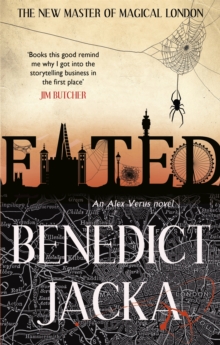 Fated : An Alex Verus Novel
Paperback
Description
Camden, North London. A tangled, mangled junction of train lines, roads and waterways.
Where minor celebrities hang out with minor criminals and where tourists and moody teenagers mingle.
In the heart of Camden, where rail meets road meets leyline, you might find the Arcana Emporium, run by one Alex Verus.
He won't sell you a wand or mix you a potion, but if you know what you're looking for, he might just be able to help.
That's if he's not too busy avoiding his would-be apprentice, foiling the Dark, outwitting the Light, and investigating a mysterious relic that has just turned up at the British Museum.
Information
Format: Paperback
Pages: 352 pages
Publisher: Little, Brown Book Group
Publication Date: 28/02/2012
Category: Fantasy
ISBN: 9780356500249
Free Home Delivery
on all orders
Pick up orders
from local bookshops
Reviews
Showing 1 - 4 of 4 reviews.
Review by OpheliaAutumn
16/06/2015
I began to read Fated after falling in love with the atmosphere and characters of the Rivers of London by Ben Aaronovitch, so, of course, I couldn't manage not to compare the two books: at first I felt that Fated was not as funny as Rivers of London, but the plot seemed more memorable. I know a lot of people also compare it to the Dresden File, but I haven't read them yet (I know...)Actually I soon stopped any comparison, as Fated has its own merits and I also felt in love with this series. The plot is indeed interesting, and having read the next two books you really see a lot of potential - all the more so since the characters develop well all along the three volumes. But the atmosphere is also very compelling and I really like that in a book...The power of Alex Verus is explained in a way that you get progressively hypnotised by the story, and begin to think like him, you know, like in a video game when you have some powers like Portalling or just the basic save/reload, and you start to think like that in real life...I can still see some plot holes at times, or don't fully understand the "timing" of his power, but it's nothing compared to the great reading it provided me, and I hope this series will go on this way!
Review by riverwillow
16/06/2015
It seems unfair to compare this to other books in the genre, after all it's the first in a series and they are always difficult to write, but this book didn't quite grab me in the way that Storm Front or Rivers of London did as Alex isn't as interesting a central character as Harry Dresden or Peter Grant. Having said that I did enjoy the book, have read worse, and am looking forward to reading the next book in the series which is languishing somewhere in Planet TBR.
Review by Corazie
16/06/2015
3.5 Stars (Not quite 4!)<br/><br/>This book started off great, I was excited to keep reading. I liked the characters, I liked the world.<br/><br/>Then all of a sudden I found myself able to easily put it down.<br/><br/>I don't know why, but the story just didn't grip me in the same way. By the middle of the book, I really couldn't give a toss about the character's past or what he was doing. But I started to care a little more towards the end., so I guess it redeemed itself sufficiently to get back up to 3.5 from the 2.5 I was thinking then.<br/><br/>A good read, a decent urban fantasy - but I have read better.<br/><br/>Perhaps if this had been one of my first urban-fantasy reads I wouldn't have been able to stop raving about it. But I've read so much of this genre that I need more, I need something new. And this just didn't stand out enough for me.
Review by aadyer
16/06/2015
An entertaining & fun romp through an adult version of Urban fantasy similar to Harry Potter. Whilst not so deep, with a frailer backdrop, the similarities between the series had resonance for me. Not as good as Harry Potter, nor some of the more popular shadow run type of literature, it will appeal to those who want to be entertained. Whilst it had a couple of memorable scenes, I could take or leave any sequels. For holiday or entertainment reading only.
Also in the Alex Verus series | View all