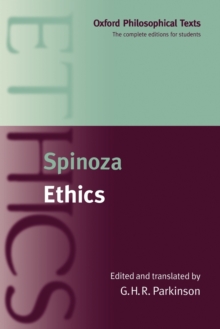 Description
The Oxford Philosophical Texts series consists of authoritative teaching editions of canonical texts in the history of philosophy from the ancient world down to modern times.
Each volume provides a clear, well laid out text together with a comprehensive introduction by a leading specialist, giving the student detailed critical guidance on the intellectual context of the work and the structure and philosophical important of the main arguments and explain unfamiliar references and terminology, and a full bibliography and index are also included.
The series aims to build up a definitive corpus of key texts in the Western philosophical tradition, which will from a reliable and enduring resource for students and teachers alike.
Spinoza's Ethics is one of the classical texts of philosophy but is also one of the most difficult to understand because of the author's use of rigorous logical deduction and the geometrical framework within which his ideas are set. In Ethics, he discusses the nature of human beings and the way in which a rational person might live; the nature of God; and offers an account of true freedom and how it can be attained. This latest text in the Oxford Philosophical Texts series includes a new, lucid translation of the Ethics by G.H.R.
Parkinson along with a comprehensive guide to the understanding of Spinoza's work.
An extensive introduction includes: a short biography of Spinoza himself; the form of his writing including his own particular uses of definitions; an introductory guide through the philosophy of Ethics; and a summary of the contents of Ethics itself. Further aids include a glossary of terms, extensive notes to the text.
Information
Format: Paperback
Pages: 366 pages
Publisher: Oxford University Press
Publication Date: 16/03/2000
Category: Ethics & moral philosophy
ISBN: 9780198752141
Other Formats
Paperback from £3.85
Hardback from £21.45
Paperback / softback from £7.99
Free Home Delivery
on all orders
Pick up orders
from local bookshops
Reviews
Showing 1 - 1 of 1 reviews.
Review by mirta
16/06/2015
Ethics is a presentation of a monolithic metaphysical system, derived from axioms and definitions. It possesses austere beauty and psychological insight, the latter in the case particularly of Spinoza's enumeration of the basic emotions, the elaboration of these, and his solution to the problems they cause human beings. (Everything in the Ethics is idiosyncratic, but taking that into account this section is at the least interesting and quite possibly accurate about the human condition.) Spinoza invests a lot in the elaboration of his higher metaphysics, relating to his versions of God, man, and nature. After a couple of hundred pages or so establishing all this, in perfect order, on that foundation he deals with political philosophy in just one page. The results is frightening. At one point Spinoza, by his relentless geometrical method, derives the conclusion that it is perfectly ok for humans to cause serious suffering to animals, because we are somehow, in curious Spinozistic fashion, special. Perhaps, all other things being equal, everything in the Ethics is true even, or can be reconstructed to be truthful. But all other things are never equal and reading this book might a good exercise in understanding that. From high-flown abstract principles to the justification of extremely cruel treatment of animals is a harsh inference.At the higher level, his idea of body and thought as being just two of limitless modes of what he calls God, and the only two accessible to us (though Spinoza believes he can infer there are more), is very interesting. Einstein said the God he believed in was the Spinozist God. This is a major influence on enlightenment philosophy and a classic statement of the non-existence of free will, a book you should read if you really want to, and pass by without guilt if you don't. I did enjoy it.
Also in the Oxford Philosophical Texts series | View all