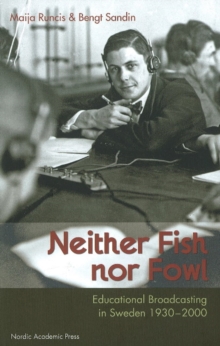 Neither Fish, Nor Fowl : Educational Broadcasting in Sweden 1930-2000
Hardback
Description
Educational media has an immediate connection to education policies, new trends in schooling, child welfare, and pedagogical novelties.
The transformation of the Swedish welfare state in the twentieth century was clearly visible in the structure and content of Swedish educational broadcasting.
Media education mediated political and social change and reflected the changes of government policies as well as the fundamental cultural transformation of the Swedish society.
It was an important instrument of modernisation. In this book, the authors provide new insights into the changes of the educational media policies, and how they interplayed with public service media as well as the educational system during the formative years of the Swedish welfare state.
The political authorities formulated general ambitions for broadcast medias' role in society, a role reflecting far reaching desires to form the future.
At the same time media education was organised within the framework of a public service system which emphasised its independence from state control -- even if it was to produce programs for the schools which were strictly government-controlled. From that position it was able to affect the views and construe the understanding of citizenship, equality, childcare, children's role in society, environmental issues, democracy, and everyday politics, and in that teachers, lecturers as well as journalists had their input.
Educational radio thus had some fundamental influence but did not necessarily have the focused aim of the policies pronounced by the government since there was an opportunity for other political interests to influence the shape and direction of national education programs.
Educational media was both a voice for progressive change and for established interests.
In this study historians Bengt Sandin and Maija Runcis have a close look on how the educational broadcasting was negotiated between parties with varying agendas.
It developed into a complex activity between journalism and education, critical scrutiny and schooling -- it became neither fish, nor fowl.
Information
Format: Hardback
Pages: 208 pages, b/w photos
Publisher: Nordic Academic Press
Publication Date: 28/05/2010
Category: Media studies
ISBN: 9789185509157
Free Home Delivery
on all orders
Pick up orders
from local bookshops