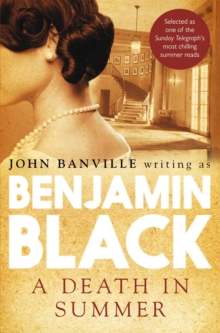 A Death in Summer
Paperback
Description
Now a major TV series: Quirke starring Gabriel Byrne.
When newspaper magnate Richard Jewell is found dead at his country estate, clutching a shotgun in his lifeless hands, few see his demise as cause for sorrow.
But before long Doctor Quirke and Inspector Hackett realise that, rather than the suspected suicide, 'Diamond Dick' has in fact been murdered.
Suspicion soon falls on one of Jewell's biggest rivals.
But as Quirke and his assistant Sinclair get to know Jewell's beautiful, enigmatic wife Francoise d'Aubigny, and his fragile sister Dannie, as well as those who work for the family, it gradually becomes clear that all is not as it seems ...Against the backdrop of 1950's Dublin, Benjamin Black conjures another atmospheric, beguiling mystery.
Information
Format: Paperback
Pages: 311 pages
Publisher: Pan Macmillan
Publication Date: 01/06/2012
Category: Crime & mystery
ISBN: 9780330509152
Free Home Delivery
on all orders
Pick up orders
from local bookshops
Reviews
Showing 1 - 3 of 3 reviews.
Review by rvhatha
16/06/2015
Disappointing. As others have said, the plot and solution are very predictable. This was the first book in this series that I've read, but I don't think I'll read any of the others; I didn't find any of the characters, except for Inspector Hackett, very engaging. Perhaps if I'd read the series in order, I'd feel differently; throughout, I sensed that I was supposed to know (and care) more about Quirke than I did. That's always a danger when you pick up a series in the middle, but I do think that this outing seemed to depend a little much on the reader's prior experiences with the characters.
Review by pamjw
16/06/2015
Richard Jewell, infamous newspaper magnate, has apparently shot himself. But Dr Quirke and Inspector Hackett, who are called out to the crime, begin to suspect that it is murder rather than suicide.Through several twists, turns and blind alleys they eventually work out who is responsible and why - and who are involved in other crimes along the way.This was a good story, with plenty of twists and turns and red herrings. Just when you think you know who did it, something else happens to make you think differently. It is not a who-done-it that you are sure from the beginning. I'm not sure it's "chilling" as the Sunday Telegraph apparently described it, so don't let that put you off.An all round good read.
Review by devenish
16/06/2015
The continuing story of Quirke,a pathologist and Dubliner whose life is full of troubles inflicted by both himself and others. He becomes involved with the wife of a murder victim who draws him into a web of events from which he finds it difficult to extricate himself.The writing is excellent,both as far as the story is concerned and in the style itself.